GID shows its focus on sustainability by installing ChargePoint EV charging for multifamily residents across the U.S.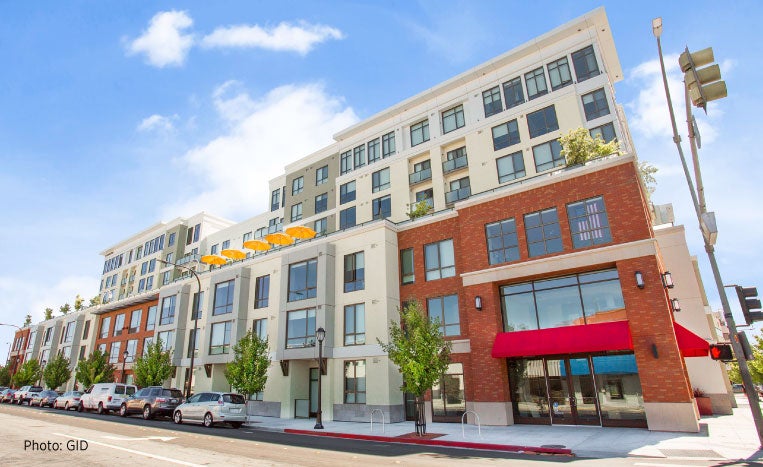 For more than six decades, commercial real estate firm GID has succeeded by putting its stakeholders — including investors, residents and employees — first. That winning strategy continues today, as the company adds the planet to its list of priorities. By investing in sustainable communities and future-proofing its portfolio with electric vehicle (EV) charging solutions from ChargePoint, GID is on track for many more decades of success and beyond.
More than an amenity
GID operates from offices in Atlanta, Boston, Dallas, New York and San Francisco and manages multifamily communities across the United States. Its portfolio includes more than 120 properties in 13 states, with a combined total of more than 38,000 residents, each of whom are surveyed annually to find out what's on their minds. More and more, it's been EV charging, says Phil Carmody, GID's Head of ESG and corporate programs. "Community, serving our residents, serving those around us and taking care of our employees has always been particularly important to us," he says. "Over the past couple of years, charging stations have climbed the ladder of importance."
"We stand behind our vision to build superior real estate that creates economic value and sustainable communities, both because we serve all of our stakeholders — our investors and our residents — and we really want to enhance the communities in which we live and invest and operate. We do that through our Environmental, Social and Governance platform, and that really comes together in the electric vehicle charging program we've developed."

Phil Carmody
Head of ESG and Corporate Programs
GID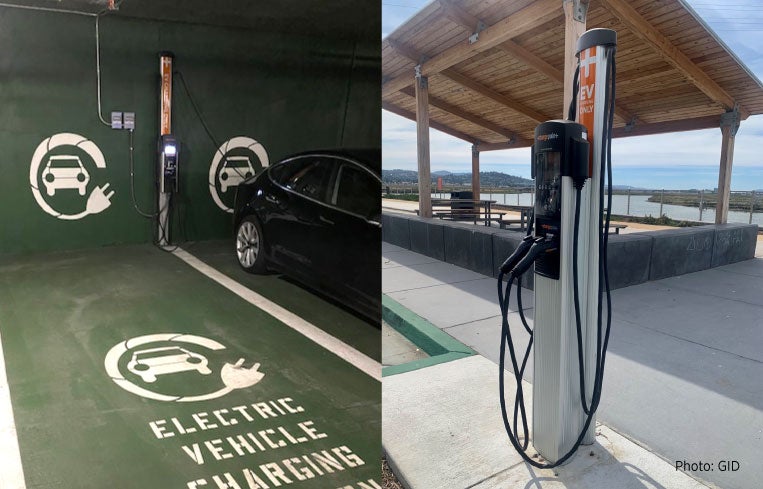 Best-in-class partner
GID has had EV charging stations deployed at its properties for more than five years, many of which were non-ChargePoint stations that the company inherited due to acquisitions, says Carmody. Unfortunately, most were also standalone stations that didn't meet the company's high standards of performance, features and aesthetic appeal. "Another brand's chargers went down at one of our properties," he says. "We heard directly from the property manager and the senior regional manager that we had to get those replaced immediately because our residents were absolutely relying on them." Since then, GID has implemented a strategic rip-and-replace program to switch out older stations with ChargePoint solutions. "We were really looking to find that best-in-class partner that could help us leverage our buying power and our distribution network. ChargePoint helped us glue the whole system together," he says.
"EV charging is as required as having a gym. It's beyond an amenity, it's beyond a nice to have."

Phil Carmody
Head of ESG and Corporate Programs
GID
Integrations are elemental
Today, GID provides residents and tenants access to 423 charging spots across its properties. Current deployments include 27 stations in Northern California, 22 in Colorado, 32 in New York and 34 in Massachusetts. The company also recently added stations in Southern California and Texas, with plans to add more in the future. They will all be ChargePoint solutions, says Carmody, who cites ChargePoint's software, service and branding as a few of the reasons for the choice. "Some of our trusted development partners had already selected ChargePoint in their deployments and so we got to really see what the company was like," says Carmody. "The platform, the intelligence behind the physical infrastructure, that really was one of a kind. It helps us manage our pricing plans and reporting, which is critical for us."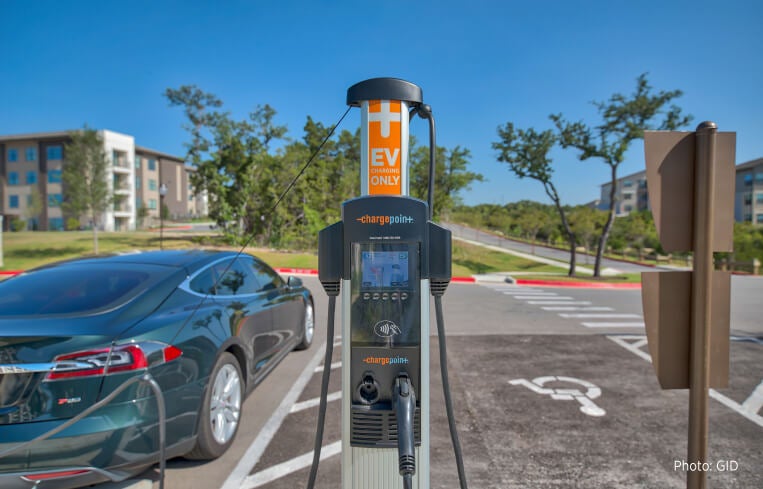 Software + service = success
"We really can't overemphasize the software enough, but the software is nothing if it doesn't have great people operating it," says Carmody. That's where it comes down to the ChargePoint team and its partners, including energy rebate provider Rexel Energy Solutions and the planning and consulting firm SitelogIQ. GID works closely with its 130 property managers to make sure they're correctly sizing their unique EV charging deployments. "You have to make sure you know your residents and what's important to them," says Carmody. You also have to identify need, understand the rebate framework in each area and, as he puts it, "Then you have to start peeling back the layers to understand the local regulations and requirements — for example, Massachusetts is very different than Colorado," he says. That's where ChargePoint and its valued partners come in. "You have to build the team, then use everyone's strengths within that team to make sure you're not installing something you're going to have to redo later."
Although EV adoption is still in the early days in most places, now is the time for commercial real estate developers and multifamily communities to begin building out EV charging deployments, says Carmody. "Make sure you know the rules," he says. "If you have a large portfolio, it takes time; it doesn't happen overnight, especially if you want to do it in a measured and planned way. Today, EV charging is as required as having a gym. It's beyond an amenity, it's beyond a nice to have."
GID needed
Satisfy EV charging demand for residents at its multifamily properties across the U.S.
Deliver an excellent charging experience to residents and commercial tenants
Software, integrations and reporting features for both property managers and corporate headquarters
Best-in-class partner with the experience to replace inherited chargers and scale to meet the needs of unique properties with future-proof, flexible solutions
Distinctive brand that residents already know and trust
ChargePoint delivered
Charging stations: ENERGY STAR® certified CT4000 and CPF25 stations for shared or assigned parking
Cloud services: ChargePoint® dashboard includes automated greenhouse gas (GHG) emission reporting
ENERGY STAR certified hardware for multifamily communities
A proven solution adaptable for public, resident, shared and assigned parking use
Automated sustainability reporting showing station usage and GHG emissions avoided
User-friendly EV charging stations that meet resident demands
Results (as of August 2022)
423 places to charge
815 MT GHG emissions avoided 
85% increase in places to charge (cumulative ports) YoY from 2021 to 2022
253 station installations (and counting)
---
At ChargePoint, we believe stories have the power to change the world.
Our customers share their stories because they're passionate about all the ways the electrification of transportation has impacted their organizations. Like many companies around the globe, they've discovered that what's good for the planet can also be good for business. E-mobility is here to stay. Perhaps it's time to tell your own story.
Reach out to us at sales@chargepoint.com and let us know. We'd love to hear it.