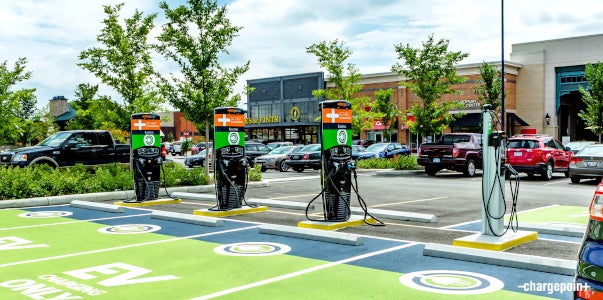 What can make or break a customer's decision to choose one retail store over another? The ease of parking is often a factor. But as the electric vehicle (EV) market continues to grow — according to a 2021 BloombergNEF report, globally there are now more than 12 million passenger EVs on the road — drivers' decisions about where to shop will start to be based on whether a store offers EV charging. And with 74% of new car sales in North America predicted to be electric by 2040, it's time for retail stores to get ready to accommodate EVs.
Here are five ways EV charging can help retailers boost sales.
1. Attract EV drivers
So what does EV charging do for retail stores besides let people plug in? Many people drive and park for their retail shopping trips — so many that the number of cars in lots is being used to predict market performance for retail companies. EV drivers obviously need to park, too, and they prefer to do it where they can charge. As EV market share keeps growing, EV charging will become a key investment for retailers that want to attract EV drivers.
2. Increase customer spend
Charging not only attracts customers but can also increase the amount of time and money they spend in a store. One major retailer found that shoppers spent about a dollar for every minute they were in the store. By adding EV charging, the retailer tripled customers' time in their store and, at the same time, tripled customer spend. Now that's a good deal.
3. Put your store on the map
EV charging also puts stores on the map — literally. EV drivers rely on EV charging apps to quickly find places where they can charge, including retail stores that offer charging. Because EV drivers tend to charge their cars while they shop, having charging available can convince drivers to choose a store over a competitor's location.
4. Create customer connections
With smart EV charging that lets drivers interact with stations online or in a mobile app, retailers can create virtual "Connections" to drivers who use their stations. This just requires drivers to submit a simple connection request in the app and allows retail organizations to learn more about who's using their stations and when, giving them new insight into their customers.
5. Offer special deals to EV drivers
Retailers can build on these customer connections by developing loyalty programs that cater to EV drivers. Giving EV drivers special deals can bring them back to charge (and shop) even more often. Some sample offers that companies have created include free charging, free stays at hotels and even free wine tastings.
What types of EV charging work best for retail? ChargePoint customers have found that a mix of Level 2 and DC fast charging can be appropriate for many retail locations, especially malls with many different types of stores. Level 2 charging is a good choice for retail locations that offer multiple options, including dining, theatres and multiple types of stores. DC fast charging helps bring in customers who make a few purchases while they get a quick charge. Both types of charging can play an important role in better serving retail customers.
Want to learn more about how EV charging worked for one retailer?