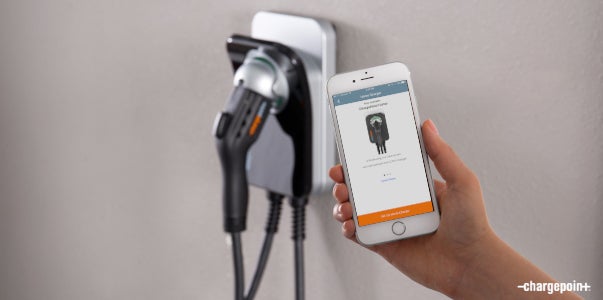 EV drivers often choose ChargePoint Home Flex to charge their EVs faster at home. This Level 2 home charger also has many smart features that makes EV charging even more convenient. This post covers the many reasons to "activate" ChargePoint Home's smart features by connecting it to WiFi and walks you through the steps. Once you're done, you'll be charging a whole new way — and spending less to do it.
Tip: The same activation process works with ChargePoint Home 25 amp (no longer available) and the 50-amp ChargePoint Home Flex.
Reasons to activate Home
If your charger isn't "activated," or connected to Wi-Fi, you're not getting all the benefits it offers. Sure, ChargePoint Home Flex is still small, sleek and slim, looks good in your garage (or wherever you install it) and adds up to 37 miles of range per hour to your EV (compared with about 4 from a regular outlet). But Flex really shines when you enable its many smart features, like reminders, scheduled charging, connecting with Alexa and tracking all of your energy use in one place.
Sound appealing? Let's find out more about the top reasons to activate ChargePoint Home Flex:
Make charging a breeze with reminders and remote start
It's every EV owner's worst nightmare: getting to the garage in the morning only to find out you forgot to plug in last night. D'oh! But once you activate Flex, you never have to remember to charge again. The ChargePoint app will remind you to plug in your car and let you start charging remotely. So if you're plugged in, you can easily start a charge from the comfort of your couch, without interrupting your Netflix show.
Fuel up for less at home
People sometimes worry that EV charging will be expensive. While electricity is generally much cheaper than gas, charging costs can add up if you charge at peak times that have higher rates under your local utility plan. ChargePoint Home Flex overcomes that issue and helps you save even more by letting you schedule your EV charging at the right time of day (or, most likely, night).
Because Flex is connected, you don't even have to tell it when to charge. Flex figures out the best time and asks you to confirm. You could save $250-300 a year by scheduling charging at off-peak times, depending on your rate plan. Once your charging is scheduled, just plug in when you get home, and Flex will start charging when rates are cheapest. You can always rely on Flex to fully charge your EV overnight, and track all of your charging activity and savings in the app.
Check your charging history
Speaking of savings, one of the biggest benefits of activating the ChargePoint Home Flex Level 2 home charger is the ability to see all of your charging activity in one place, including both public and home charging. See how much energy you're adding, how much money you're saving and how far you're traveling, all in the app. Because ChargePoint is a leading EV charging network, you probably already charge at some of our stations in public. Being able to see all your charging activity in one place helps you understand where you tend to charge and how much you're spending (or saving!).
Connect to Alexa
For even more convenience, you can connect ChargePoint Home Flex to the Alexa ChargePoint skill to check your charging status and history or start a charge remotely. Here's how to connect with Alexa.
How to activate ChargePoint Home Flex
Have we convinced you yet that connecting to Wi-Fi is key to getting the most out of ChargePoint Home Flex? Great. The best news of all is that it's super simple to activate your home charger. You can use the ChargePoint mobile app to activate Flex in a few easy steps: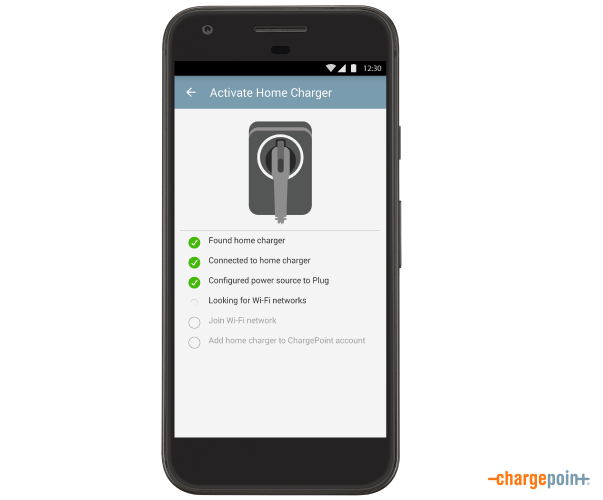 Turn on Bluetooth and Wi-Fi on your phone. (Stand close to Home to make sure you can connect.)
Open the ChargePoint app. On the main menu, click "Home Charger."
Select "Set Up Home Charger" from the Home Charger screen.
Select "Activate" and follow the instructions in the app.
That's it! Once you activate Home Flex, you can schedule charging, start sessions remotely, set reminders so you never forget to charge and track all your charging in one place as outlined above. You'll also be able to update your station remotely with any software upgrades, so you always have the latest features. And all of those features come in a single sleek and slim package.
Ready to activate? Get the app. Interested in buying Flex? Learn more.