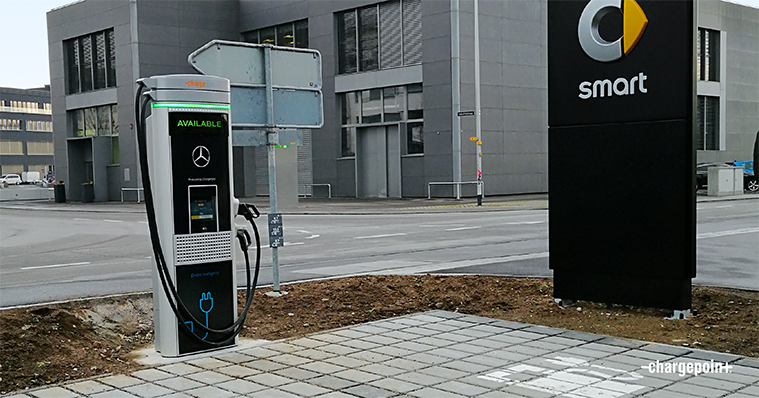 According to Bloomberg NEF's Q4 2021 Electrified Transport Market Outlook, annual electric vehicle (EV) sales were on track to hit around 6.3 million units in 2021, and now more than 500 zero-emission vehicle models are available globally, up 37% since 2019. McKinsey predicts that the favorable regulatory environment, increasing consumer demand and automakers' commitment to EV production will likely push EV sales to make up about 53 percent of all passenger car sales by 2030.
Auto dealerships, however, are stalling in that many don't have the charging infrastructure to support bringing EVs onto the lot nor the expertise to sell them. And now automakers are reluctant to send their limited supply of EVs to dealers who are not set up to receive them. In fact, most auto manufacturers are requiring dealers to install EV charging infrastructure before they agree to ship inventory at all.
Some dealership owners may think adding the minimum infrastructure to meet automakers' requirements is the way to go. But it's important to take the time to think strategically about how you implement your EV charging solution. Adding charging infrastructure is not just a way to comply with manufacturers' requirements — it's a way to future-proof your business as mobility shifts to electric.
A new way of doing business
Thoughtful, strategic planning will ensure that your business evolves as EV adoption continues to gain momentum — regardless of what field you are in. Electrification not only helps auto dealers prepare for the delivery of vehicles to new owners but also enables them to enhance offerings, control the service and maintenance aspect of their business, and build potential new revenue streams.
Before making the investment, work with a partner who can turn a complicated situation into an easier one and help you reap the benefits of electrification.
Drive vehicle sales
Having a charging solution on-site can go a long way in helping customers overcome their hesitations about converting to electric. As with internal combustion engine (ICE) vehicle sales, the customer experience is key to closing a deal. Only now, you're talking with a customer who may be hesitant to make the switch to electric. Driving electric is definitely different from driving a traditional ICE vehicle. Your sales team must understand these differences inside and out in order to alleviate any concerns the customer has about changing the way they drive.
A recent consumer reports survey noted that vehicle range and availability of charging stations were chief among U.S. motorists' concerns about going electric. Similarly, in a recent Center for Sustainable Energy (CSE) survey of California car dealerships, most respondents said the questions they get from customers aren't about the EVs themselves. Many customers want to know where and how to keep an EV charged up. How confident are you that your sales team can answer these types of questions?
A well-informed salesperson can better support the customer journey overall. Using on-site charging solutions, dealers can help drivers understand how charging works, demonstrate how to find charging spots and explain that most charging will occur while they are doing something else, like sleeping or working.
Customers will turn to trusted dealerships that can guide them as they consider their purchase. Being able to speak the language to educate customers on the overall EV experience is critical to creating consumer confidence. Your expertise will, in turn, help you reach the ultimate goal of inspiring emotions in the customer that lead to a purchase consideration — not to more anxiety.
Create operational efficiencies
Haphazard charging infrastructure installations can actually have a negative impact on operations. But when strategically implemented, you can control your entire EV business with one integrated back end. A comprehensive, networked charging solution helps simplify the electrification process overall and enables you to scale your business as you go.
You may wonder why you need to be connected just to keep your cars fueled up. The reality it is that networked charging stations actually help you save energy and money over time by allowing you to balance usage. Custom configured software allows you to control access, schedule charging for when electricity is at the lowest cost and even draw in potential customers looking for a charge. Power management features allow you to track and balance energy usage between charging ports.
Having chargers in your service bay gives mechanics flexibility to drive vehicles as much as needed during maintenance sessions. You can also return vehicles to their owners fully charged, which is a small amenity that will build loyalty.
Guarantee ROI
Don't cut corners just to defray the upfront cost of implementing an EV charging solution. Every state as well as the federal government offers a range of grants, rebates and tax credits to help businesses find cost-effective solutions to establish EV infrastructure. Many businesses can cover the bulk of the implementation expense and begin to see a return on their investment quickly through increased vehicle sales as well as decreased fuel and maintenance costs.
The reality is that the world is moving in the direction of battery electric vehicles (BEVs) and the infrastructure requirements are real. Without the ability to charge, it will be challenging to compete. However, with the right partner and a thoughtful charging implementation, you'll drive more business as EV adoption continues to grow.
Gain peace of mind with ChargePoint
According to a recent McKinsey article, "The growth of electric mobility will have far-reaching consequences for auto dealers, touching virtually every aspect of business." One way to sidestep some of the complexity is to find a comprehensive EV charging solution that meets all your needs. Having one dedicated partner, rather than mixing and matching for the various aspects of your EV charging environment, can save a lot of time and money.
A trusted partner with years of experience such as ChargePoint can pilot your charging implementation and guide you through the entire process:
Site evaluation and strategic planning — We'll help determine what mix of AC and DC charging stations makes the most sense for your business and design an implementation that best fits your site, vehicle flow and utility needs. And you'll have access to ChargePoint Certified Auto Partners who have been specifically trained to execute dealer deployments.
Find incentives — Get help finding regional incentives to cover the upfront cost of installing your EV charging infrastructure.
Team education — Use ChargePoint resources to build electrification expertise around both EVs and EV charging in order to deliver a differentiated customer experience.
Station setup — Get help with software and hardware configuration so your team can use ChargePoint features to drive sales, create electrified brand awareness and lower operational costs.
"Wait and see" is no longer an option. If automakers aren't sending you their electric vehicles, you simply won't be able to participate in the new mobility economy. Let us help you get on board.