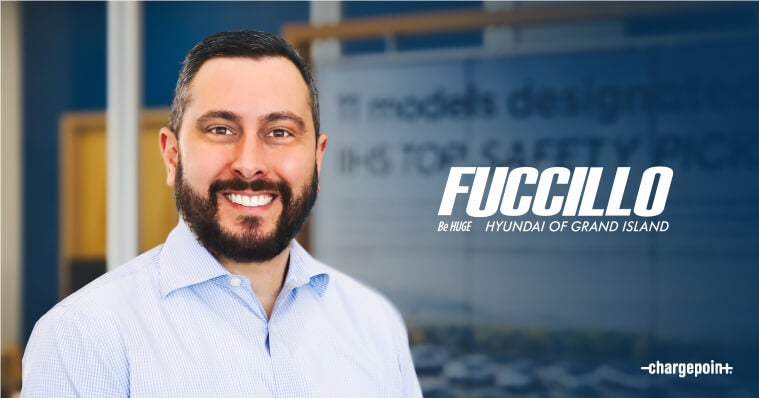 No car dealership is an island — even in Grand Island, New York. In fact, since adding ChargePoint electric vehicle (EV) charging infrastructure, Fuccillo Hyundai has been connecting with the community more than ever. EV drivers throughout western New York and even from across the Niagara River in Canada have come to Fuccillo to charge up using the dealership's DC fast chargers.
What's more, Fuccillo Hyundai is future-proofing its business by getting set up to receive and sell the latest Hyundai EV models of today and tomorrow. They're also stepping into the role of educating community members on EVs and EV charging. According to a recent survey from Plug In America, only 15% of EV owners rated their dealership salesperson as having "very high" EV knowledge. Fuccillo is helping fill that gap.
We checked in with Russell Tabone, dealer operator and general manager at Fuccillo, to learn more about the dealership's exciting charging journey.
Working with ChargePoint has been easy. The team was very supportive throughout the entire process, helping us get our chargers connected to the network and configured for our dealership. – Russell Tabone, dealer operator and general manager, Fuccillo Hyundai
Why did you decide to install EV charging at your dealership?
With the launch of the IONIQ 5, Hyundai gave the dealership the opportunity to opt in or opt out of electric vehicle sales. Opting in meant we would have to install the necessary infrastructure to charge and service those vehicles.
I came to the store in 2021 with the intention of growing the dealership and making sure we were delivering top-tier service to all of our customers. We knew that EVs were set to take off, so it was a no-brainer: We had to go all in.
We also wanted to fully invest in EVs for our community, so we needed to have the infrastructure to support everybody in the region who would like to drive an EV.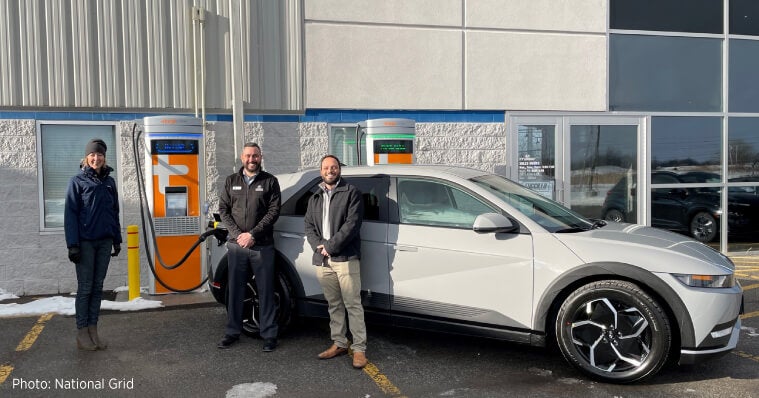 How did you end up working with ChargePoint and how was that experience?
Because of Hyundai's longstanding relationship with ChargePoint, Fuccillo implemented a comprehensive ChargePoint solution.
By December 2021, we installed three ChargePoint CPF50 AC (or Level 2) charging stations and two ChargePoint Express 250 DC fast charging stations, which allowed us to receive some of the first IONIQ 5 shipments in western New York.
Fuccillo worked directly with Pure Performance Renewable (PPR) Energy Solutions, a ChargePoint–certified electrical contractor specializing in the design and implementation of EV charging projects in western New York. PPR Energy Solutions managed the entire process, which took only three days.
Working with ChargePoint has been easy. The team was very supportive throughout the entire process, helping us get our chargers connected to the network and configured for our dealership.
Did you take advantage of any incentives?
PPR Energy Solutions was great. They helped us apply for financial incentives through the National Grid EV Make-Ready Program to help pay for the project.
National Grid covered more than 80% of the upfront infrastructure and installation costs for the five stations. Because PPR Energy Solutions is a certified installer, we could assign our rebate to go directly to them without ever actually having to pay those upfront costs out of pocket.
Thanks to National Grid's EV Make-Ready Program, the EV charging stations came online just in time for us to receive inventory of the 2022 Hyundai IONIQ 5. We've been receiving calls both locally and from across the country for a chance to purchase this EV, which charges in only 20 minutes.
How is the ChargePoint solution helping you evolve your business?
Currently about 18% of sales at Fuccillo are EVs, and we expect that to number climb because the IONIQ 6 and IONIQ 7 are coming out later this year.
Having EV charging infrastructure on-site has definitely helped us with sales, whether people are specifically looking to buy a new IONIQ 5 or are only beginning to consider an EV. We can show customers the ChargePoint app and explain how easy it is to find charging stations in the network, start charging and monitor progress.
We can also demonstrate how simple it is to plug in and charge up. The fact that the IONIQ 5 goes from 10% to 80% in 18 minutes is incredible. So that's a big selling point when a customer says they don't have a lot of time to charge. Having the DC fast chargers on-site really helps alleviate some of their concerns.
Hyundai is built on an ultra-fast charging platform, so we wanted to make sure we could deliver up to 150 kilowatts of charge — that's why we decided to install the fast chargers.
We also like to explain to customers that most people with EVs actually charge their vehicles while they are doing something else, such as sleeping or working. So most of the time, using a more cost-effective AC charger makes the most sense. But for long trips or when under a time constraint, knowing that it's possible to charge up quickly can be reassuring.
We have realized that we can use our newfound EV expertise to help educate the public about EV life and how approachable driving an EV really is. Having charging infrastructure available to give customers a hands-on experience is a huge part of that.
So ChargePoint has really brought a lot of value to the dealership overall. We also use the chargers to keep our inventory charged up, and when customers leave their vehicle for service, we always make sure their car is charged before we return it to them. And when customers purchase an EV from Fuccillo, they always receive unlimited free charging at the dealership.
I also love the great dashboard where I can look at everything online — energy usage, which chargers are in use, everything that's going on with our charging solution.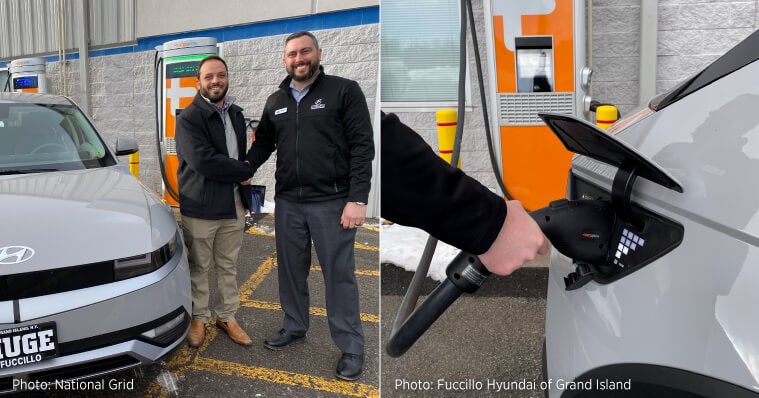 You've added public charging to your sales lot. How is that going?
In addition to making our EV charging stations available for Fuccillo customers, our goal is also to serve as a destination for motorists who want to charge their vehicles.The fast chargers are located right out in front so people can find them easily.
Also, all of our chargers are free to the general public as a way to help usher in the transition to driving electric and to entice people to come onto the lot. We currently have no plans to begin asking customers to pay. A lot of customers can't believe it's free — they still come into the showroom to ask where they should pay.
Most of the people who come to Fuccillo for a charge are using their ChargePoint app to find the dealership — and it's not all Hyundai drivers. A lot of these folks are driving Polestar, Porsche and Tesla models. While they are charging, they want to check out the new IONIQ. And that's provided a great opportunity for us to engage in conversation with them.
The fast chargers are pretty much in use all the time. We'll get one person who's on their way home from work at night and just needs to plug in. The area is well lit, so many people stop to charge at night. We leave them on 24 hours a day so people can charge whenever they need to.
Any advice for other dealerships considering electrification?
Find a good local contractor who can help ensure that all your needs can be met today as well as down the road. Also, take advantage of every opportunity you can in terms of the grants, rebates and tax credits available. And definitely find a way to connect with your community. Everybody's still getting used to this EV world and the technology, so it was important for us to show people how simple it is.
Fuccillo Hyundai wanted to offer public charging as a way to connect with the community and demonstrate the importance of sustainability. Our team can work with you to set up an EV charging program that fits your specific dealership. ChargePoint solutions are flexible and customizable and can be tailored to your meet your unique business needs.
Ready to electrify your auto dealership?