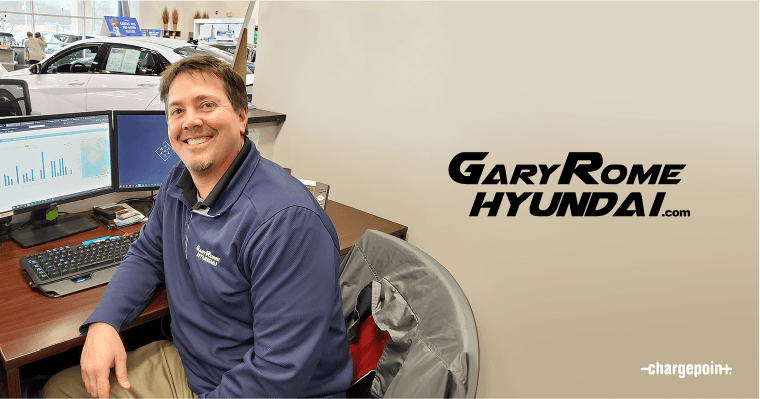 Originally a booming mill town and later a popular destination for weekend getaways from New York City and Boston, Holyoke, Massachusetts, today is a quiet, residential community situated along the Connecticut River.
Back in the 1800s, the town's location on the river was ideal for the development of a comprehensive canal system to fuel the mills. Today, that same canal system helps generate renewable power for the entire municipality, giving it one of the lowest energy rates in Massachusetts. In fact, more than 85% of their energy mix is carbon neutral, helping future-proof the town's infrastructure as environmental demands evolve.
Another sustainable focus area for the city is electric mobility. Holyoke Gas & Electric partners with local auto dealer Gary Rome Hyundai to help educate the community about electric vehicles (EVs) and EV charging. Gary Rome was one of the first dealerships in the region to establish on-site EV charging infrastructure, setting up the business to receive EV inventory and support customers in making the switch to driving electric.
Getting ahead of the EV curve
Gary Rome Hyundai has sold more cars than any other Hyundai dealer in New England for two years running. Because they are the largest Hyundai dealer in the area, customers come from all over the region to test drive and purchase vehicles. Until recently, however, they hadn't sold very many EVs at all.
Timothy Ferreira has been with Gary Rome Hyundai since 2002, first as a fixed operations manager and then, beginning in 2017, the dealership's general manager. When he took over management, he realized it was a market they hadn't tapped. "There wasn't a big demand for EVs yet, but we wanted to be ahead of the curve," he says.
With financial help from Massachusetts state incentives, they installed six first-generation EV charging stations to help manage their EV inventory. Soon, however, they realized these early model chargers were too slow to really be of benefit. They needed a more comprehensive charging solution to accommodate showroom demonstrations and their service bay as well as community charging.
That's when they brought in ChargePoint to help build out an EV charging infrastructure that now includes two Express 250 DC fast charging stations as well as two Level 2 CPF50 stations. Because they were one of the first dealerships to have the necessary infrastructure in place, they were able to sell the first Hyundai IONIQ 5 vehicles on the East Coast.
"Today I would say at least 25% of our new car sales are some sort of electric vehicle," Ferreira says. "We're a hundred percent committed to this — it's the future."
Why ChargePoint?
"We looked online and, based on the reviews and the customer experiences, we thought ChargePoint would be a great company to work with," Ferreira says.
He also knew that Hyundai and ChargePoint already had established a positive relationship, so it made sense for them to expand on a good thing.
Ferreira says that while they needed to install EV charging infrastructure in order to receive EV inventory from the manufacturer, they quickly realized the benefits of having more than the bare minimum requirements.
Ease of management. All of the charging stations at Gary Rome are networked, allowing Ferreira and one of his colleagues to keep track of station energy usage and charge time.
Low fueling costs. The Power Management feature allows them to share energy between stations to help lower overall operating costs and avoid costly electrical upgrades.
Detailed reporting. Ferreira can use the ChargePoint Cloud Dashboard to view real-time charging data online or print comprehensive reports on energy usage, costs and emissions.
Customization. Ferreira hopes to make use of ChargePoint custom branding in the future to add Gary Rome video content to the screens on the charging stations available to the public.
Ingrained sustainability
Established more than six decades ago by Gary Rome's father, the dealership is deeply committed to helping ensure a sustainable future for the community of Holyoke.
In collaboration with Holyoke Gas & Electric, the Gary Rome team attends community events to help educate the public on e-mobility, offering demos and test drives of EVs from their lot. Thanks to ChargePoint training, as well as training from the energy company, members of the Gary Rome sales team are now EV experts. Many existing and potential new EV drivers look to them for education and advice.
"In three or four years, the technology has changed in leaps and bounds," Ferreira says. "So you have to stay up on this stuff. It's really about training."
Also in partnership with Holyoke Gas & Electric, the dealership hosts two acres of solar arrays on their property that produce far more energy than the dealership can use. The extra energy goes back to the electric company to help offset the town's carbon footprint. The dealership also uses LED lighting in the showroom and on the lot, and recovery tanks collect rainwater that's treated and then used in their car wash operation.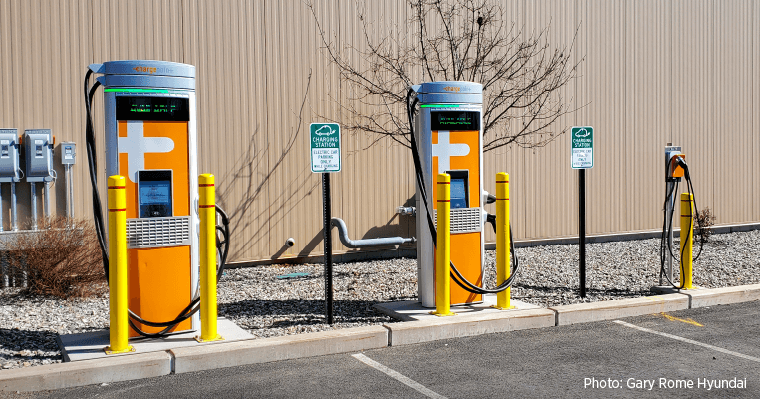 Community connection
"We want to be at the forefront of the sustainability movement," Ferreira says, "and you know what? The community appreciates it."
The DC fast chargers at Gary Rome have become extremely popular in the community. Other than for Tesla drivers, there are very few options in the area for EV drivers seeking a fast charge. People are even using them in the middle of the night.
According to Ferreira, a company down the road from the dealership helps manage the electricity grid for the Northeast. They employ about 750 people, many of whom are environmentally focused and want to reduce their carbon footprint. Thus, many of them own EVs. Ferreira says some of the employees drop off their vehicle at a Level 2 charger on their way to work and then return to pick it up later in the day.
"It's obvious that we have one of the only fast chargers in the area because people are even coming to charge vehicles they didn't buy from us," Ferreira says.
Gary Rome offers Level 2 charging free to the public, and they charge 35 cents per minute for DC fast charging. "For $7 or so you can charge your car pretty quickly," Ferreira says. "That's a lot better than filling a gas tank."
Another customer comes in every Saturday morning around 7:30 with his bicycle on the back of his car. "He plugs in his car, then rides for about three or four hours," Ferreira says. "It's just his routine now."
What does the future hold?
When thinking about what's next for EV charging at Gary Rome, Ferreira says they are ready for growth. The EV charging infrastructure established with the help of ChargePoint set them up to expand and accommodate more chargers as their business evolves.
In Massachusetts, the goal is that by 2035 all new vehicles sold must be electric, so Gary Rome will certainly be charging a lot more EVs down the road.
"We have an additional 11 parking spaces ready to go as we start getting larger and things really start going strong," Ferreira says. "So we're definitely set up for the future."
Gary Rome Hyundai wanted to offer public charging as a way to connect with the community and demonstrate the importance of sustainability. Our team can work with you to set up an EV charging program that fits your specific dealership. ChargePoint solutions are flexible and customizable and can be tailored to your meet your unique business needs.
Ready to electrify your auto dealership?