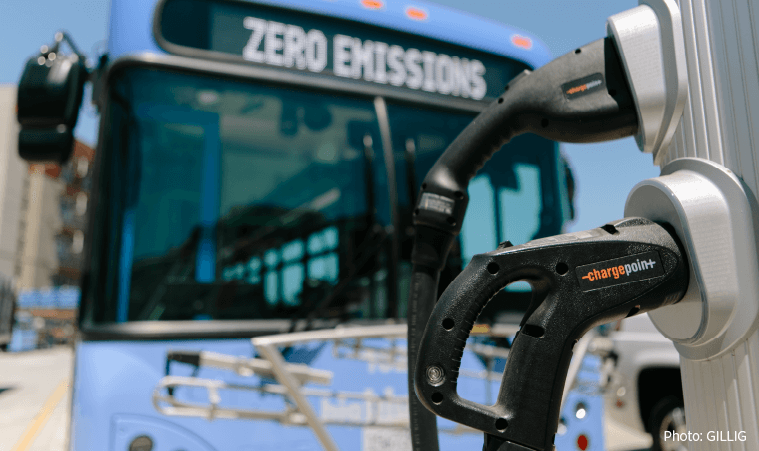 When you step onto a public transit bus in about 70% of cities in the U.S., it's likely a GILLIG. Founded in 1890 as a carriage and wagon shop in San Francisco, today GILLIG is one of the top two producers of transit buses in North America. I've been working in fleet for 25 years now, and have to say, I'm truly awed by the company's ability to adapt to evolving public needs over the course of 130 years of operation. Recently, as environmental sustainability has become an important focus for many cities, counties, states and provinces, GILLIG began developing a zero-emissions option to add to its fleet, and in 2019, the company integrated the Cummins electrified drivetrain into its low-floor platform. At the same time, GILLIG began partnering with ChargePoint to test its battery electric buses throughout the new product development and validation processes. Inspired by a shared commitment to quality and reliability, GILLIG now offers ChargePoint electric vehicle (EV) charging solutions to help meet their customers' infrastructure requirements. And we couldn't be more thrilled.
Getting on the electric bus bandwagon
Across the globe, municipal leaders are committing to aggressive climate action goals. A key component to meeting these goals is the electrification of public transit systems — the transportation sector accounts for approximately 14% of greenhouse gas (GHG) emissions globally and nearly 30% in the U.S. Many people rely on public buses as their primary means of transportation, and in large metropolitan areas, buses often run around the clock, which adds up to a lot of emissions. By some estimates, in regions that have made the switch to clean energy, greenhouse gases can be reduced by up to 80% by putting zero-emissions buses on the road.
According to the 2021 BNEF Electric Vehicle Outlook report, electric buses are expected to represent over 62% of the global bus fleet by 2040. In the United States, the electric bus market is beginning to see growth. At the end of 2020, 1,200 of the 73,000 transit buses on the road were electric. By 2025, BNEF predicts the U.S. electric bus fleet will reach more than 5,000 vehicles. Similar to our mission here at ChargePoint, GILLIG wants to offer people a cleaner way to get where they need to go by making it easier for transit agencies to make the switch to greener vehicles.
Electric buses are not only good for the environment, but they are also good for bus drivers, passengers and neighborhoods. Drivers love electric buses because they are easier to drive, more comfortable and accelerate faster. Electric buses are also quieter, making for a more pleasant ride for passengers and contributing less noise pollution in the communities where they operate.
Why GILLIG chose ChargePoint
Launching a new product takes a monumental effort. The electrification of a municipal bus fleet means venturing into unknown territory in terms of new technologies and the necessary infrastructure to deploy them. Convincing customers in cities and towns around North America to make the switch adds another layer to the challenge for GILLIG. That's why the company chose ChargePoint as a partner along their electric bus journey.
As with all of our partners, we've taken a consultative approach, helping adapt EV charging infrastructure to the requirements at GILLIG's own site and supporting them as they take their learnings to customers. When I recently spoke with Ben Grunat, VP of Product Planning and Strategy at GILLIG, he said he chose us because of our deep knowledge in EV charging and because he knew he could count on us for support at every step.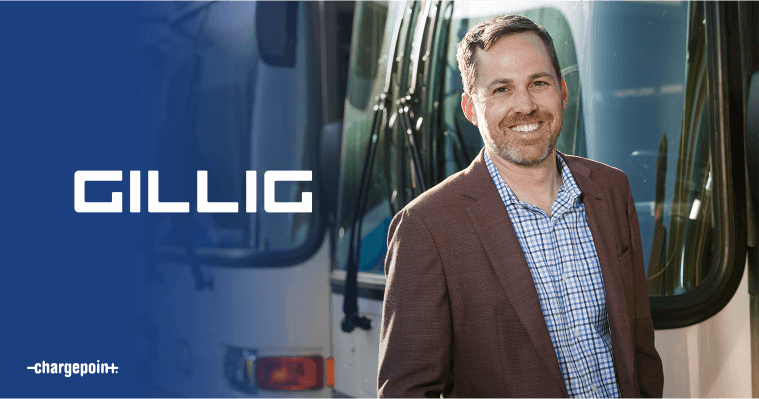 GILLIG selected ChargePoint as a partner because of their established and proven experience and for their leadership in developing integrated solutions for electric vehicles. They have helped ensure GILLIG's customers have a smooth transition to electric buses.
— Ben Grunat, VP of Product Planning and Strategy, GILLIG
We worked closely with GILLIG to first deploy the ChargePoint Express 250 at their headquarters in Livermore, California, to help with testing and quality assurance as they launched their first electric bus. Because of our experience with safety and reliability testing of our own solutions, we were able to integrate easily into GILLIG's overall testing and manufacturing process:
Validate that each vehicle coming off the assembly line can be charged
Provide charging during the mileage accumulation testing period prior to customer delivery
Conduct interoperability testing when updating the powertrain and battery management systems
As these products mature and new products and services are introduced, we collaborate to ensure that GILLIG customers receive the highest quality, reliability and best value for dollar when investing in the electrification of their transit buses.
Our complete solution of software, hardware, services and support means GILLIG and their end customers have just one vendor to work with, ensuring a consistent experience and comprehensive support when it's needed. It also means GILLIG can confidently advise customers when it comes to implementing EV charging infrastructure at their fleet depots.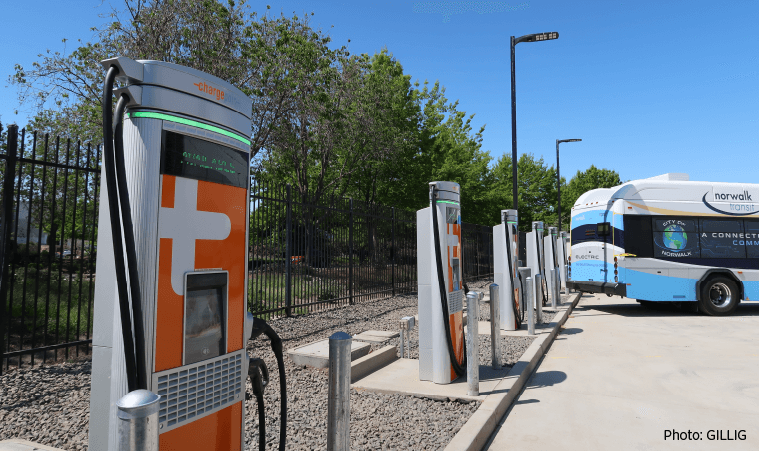 Streamlining transit electrification
For any company, transitioning to a new technology can be tough. For transit agencies, electrifying their fleet is much more complicated than simply swapping out old vehicles for new electric buses. The depot infrastructure needs to be rethought and charging activities need to be incorporated into daily operations. Being able to find the right charging partner is daunting, which is why GILLIG decided to offer ChargePoint solutions alongside their electric buses. Our smart networked solutions help GILLIG customers maximize uptime, and power management features help them save on fueling costs and reduce demand charges. Transit agencies can rest assured that they are not only getting some of the best electric buses on the market but also implementing a complete solution from the start.
I'm truly excited to work with an industry leader like GILLIG. Their commitment to quality design, testing and implementation aligns with our focus on ensuring that every charger is put through a series of mechanical, environmental and operational stress tests before it's released. By providing a complete charging solution with their buses, GILLIG is helping transit agencies make the transition to electric with confidence.
And the millions of people who ride GILLIG buses day in and day out can count on a proven, reliable ride that's also contributing to a cleaner environment.