With 238 miles of range and an affordable list price that's close to $30,000 after tax incentives, the Chevy Bolt EV is making it possible for many people to go electric without compromise. The Bolt EV is already available in many states and should be in dealerships across the U.S. by September. If you're considering the Bolt EV, you might be wondering how to charge it. This post covers everything you need to know about charging the Chevy Bolt EV, plus exclusive insights into how people are actually charging their Bolt EVs out in the real world.
How to Charge the Chevy Bolt EV
EVs are more efficient and environmentally friendly than gas vehicles. They also use a different fueling model: as an EV owner, you'll top off the battery by charging anytime you're parked, instead of making a separate trip to refuel. Topping off makes sure you always have as much range as possible and reduces the time needed for each charging session.
The Chevy Bolt EV accepts the universal connector on every standard Level 2 charging station, which adds about 25 miles of Range Per Hour. It takes just a few seconds to plug in, then you can go about your day (or night) while the Bolt EV charges.
You can also get fast charging as an option on the Bolt EV. It adds about 90 miles in 30 minutes.
Charging the Bolt EV in Public
You might not have noticed, but there may be places to charge at the workplaces, restaurants, retail stores and other places where you spend time. These locations typically have Level 2 stations that add about 25 miles of Range Per Hour, but the best part is you can go about your day while the car is charging. Soon, you might find yourself going to a specific store more often because it has EV charging. You can discover convenient places to charge near you with the ChargePoint mobile app.
To start charging at a ChargePoint station, you can press the orange "Start Charge" button on the station page in the ChargePoint app or just tap your ChargePoint card (it comes in the glovebox of every Bolt EV) on the station.
Fast Charging the Bolt EV
In addition to Level 2 stations, there are DC fast charging stations that are good for adding lots of mileage during quick stops, like on road trips. DC fast charging stations supply DC power directly to the battery to charge vehicles much faster: you can add about 90 miles in 30 minutes to the Bolt EV with DC fast charging.

How do I fast charge the Bolt EV?
Adding DC fast charging as an option on your Bolt EV will make it easier to take road trips along our Express charging corridors and anywhere else DC fast charging is available (check the app to find a spot). Because the Bolt EV has 56.6 cubic feet of cargo space, it can fit all your road trip gear, no problem.
The Bolt EV uses the SAE Combined Charging Standard (CCS) Combo connector for DC fast charging. You can use filters in the ChargePoint mobile app to find stations with a Combo connector.
Once you find a station, start a fast charge just as you would start any other charge: just use your app or card to authenticate and plug the connector into your car. Check the pricing on the station first, as fast charging may cost a bit more (see pricing details below).
The Cost of Charging
The price of charging can vary across different EV charging stations and networks. ChargePoint station owners set their own fees, so always check the station details page in the app for the latest fee information. Keep in mind that pricing may change over time to encourage drivers to move on when they're done charging.
Average figures for charging on ChargePoint show that the Bolt EV lets you go twice as far as a gas vehicle for half the price: the average gas vehicle travels only 24 miles on a $2.38 gallon of gas, while it costs just $1.18 to go 50 miles in the Bolt EV on a Level 2 charger.
How much will it cost to charge the Bolt EV in public?                                                                                                                                                                                                                           
| | | | |
| --- | --- | --- | --- |
|   | Level 2 | DC Fast | Gas |
| Cost to Add 50 Miles of Range* | $1.18 | $2.66 | $4.76** |
| % of Sessions with No Fee* | 69% | 58% | 0% |
*Data for Bolt EV charging sessions on the ChargePoint network through April 2017.
**Based on average gas price of $2.38 per gallon as of June 1, 2017, and average mileage of 24 miles per gallon.
The app sends alerts when your car is done charging so you don't have to just sit there and wait. You can grab a coffee or stretch your legs while your car charges up.
Whether you have your Bolt EV yet or not, sign up now for ChargePoint so you'll be ready to charge wherever you go.
Home Charging for the Chevy Bolt EV
Some people charge their EVs at home using a regular wall outlet, which adds about 4 miles of Range Per Hour, but it would take more than two days to fully recharge your Bolt EV this way. That makes upgrading from a wall outlet to a Level 2 home charger like ChargePoint Home an essential step for Bolt EV owners. A Level 2 station adds about 25 miles of Range Per Hour, so you can easily fill up your Bolt EV overnight. Smart chargers like ChargePoint Home even let you schedule charging at off-peak hours to save money. If you don't live in a single-family home, there are many ways to get EV charging at apartments and condos.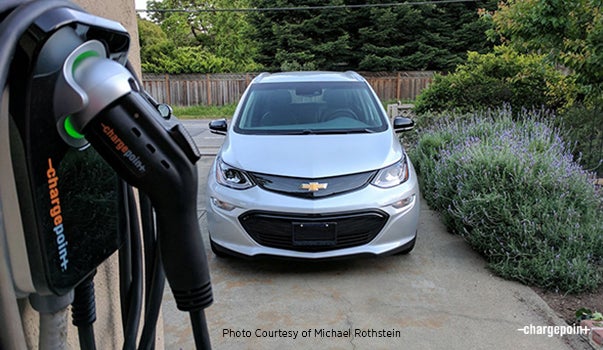 Even if you can't charge at home, you can still live the EV lifestyle if you can charge at work or have easy access to Level 2 charging around town. Check the ChargePoint mobile app to see if there are public charging stations near you.
How much does it cost to charge the Bolt EV at home?
The cost of charging will vary depending on how much you drive and how much electricity costs in your area. ChargePoint data shows that on a typical day, the average* Bolt EV driver using ChargePoint Home will stay plugged in for about 10 hours, adding about 44 miles of range (14.44 kWh) and spending about $1.85 on charging. In other words:
The average Bolt EV driver spends less than the cost of a gallon of gas to go more than twice as far as the average car can go on one gallon. Driving an EV really adds up.
*Estimates based on ChargePoint network data and U.S. Energy Information Administration electricity prices.
Have we won you over to driving electric yet? Don't forget to sign up for ChargePoint to charge the Bolt EV everywhere you go:
Any questions? Want to share your experience with the Bolt EV? Come find us on Facebook or Twitter.