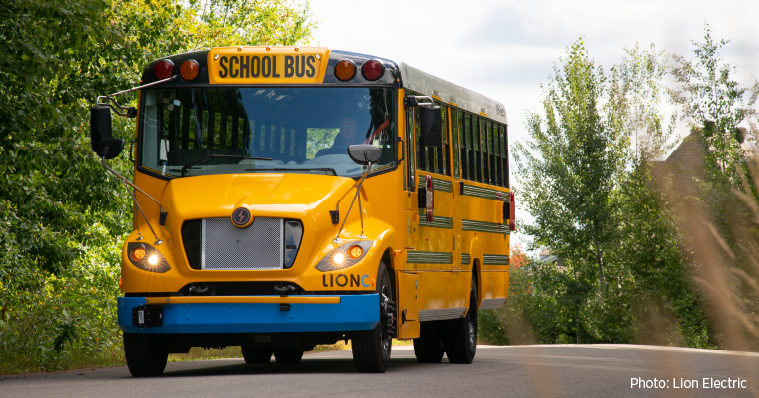 In-person school is in full swing for many students this fall, and more and more of them get to ride there on all-electric buses that help clear the air in their communities while saving school districts money on fueling. More than half of all K–12 students in North America ride a bus to school, making school buses a major part of life for millions of kids, as well as a big factor affecting their health and the health of their communities. This post looks at the many advantages of electric school buses and examines some places where they're successfully running routes.
Electric buses clear the air
Pollutants and particulates emitted by fossil fuel vehicles have been shown to exacerbate asthma and other respiratory conditions that affect children. Multiple studies have demonstrated that vehicle exhaust and particulates contribute to millions of childhood asthma cases. Yet despite the dangers of diesel exhaust, which contains toxic and potentially carcinogenic chemicals and is linked with many health issues, most of the buses kids depend on to get to school every day are currently diesel.
Fortunately, we know there's a better way. Kids deserve to breathe clean air and have healthy futures, and electric school buses are a great way to achieve these goals. Buses not only idle at stops and on the campus but also generate emissions on route that affect everyone in the community. Electric buses eliminate both localized and generalized emissions, helping everyone breathe easier every day.
Electric buses save money
Research finds that "EV buses, with their far lower fuel, operating and maintenance costs, exhibit lower lifetime costs than diesel and CNG [compressed natural gas] buses," and according to one study, electric buses (including transit) can deliver $50,000 in savings per bus per year. One electric school bus manufacturer estimates 80% lower energy costs and 60% lower maintenance costs for eBuses, while another outlines that electric school buses don't need any engine oil changes, air filter changes, smog checks, spark plugs, coil replacements or transmission maintenance. Brake pad and coolant change intervals are much longer than for diesel buses as well. With school budgets stretched tight, the fuel and maintenance savings offered by electric buses are difficult to pass up.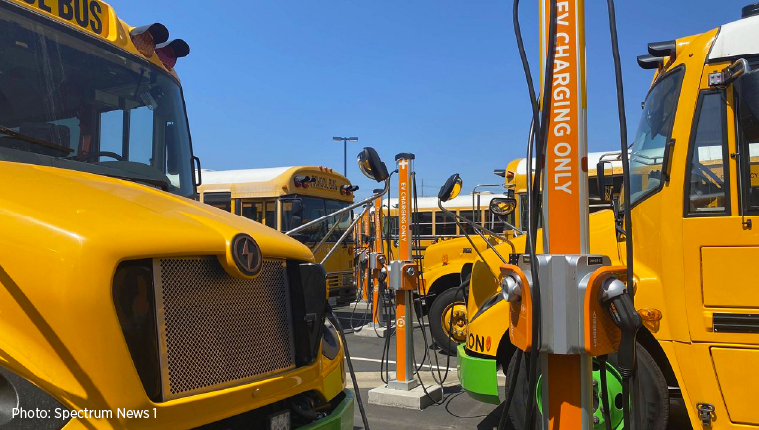 While the total cost of ownership (TCO) is far superior for electric vehicles, the upfront price of an electric bus is still higher. That's why incentive programs like California's Hybrid and Zero-Emission Truck and Bus Voucher Incentive Project (HVIP), which can provide as much as $235,000 for electric school bus purchases, are an important way to bridge the gap and encourage districts to invest in electrification that helps kids breathe better air while saving money. Other states, including Massachusetts, New York, Michigan and Washington, also offer incentives for electric buses, and innovative leasing programs can help lower the cost of entry for eBuses.
"Calculations of return on investment should include the total societal cost for the life cycle of an electric bus versus a diesel bus."

— USPIRG
Electric buses reduce infrastructure costs
Another advantage of the electrification of school buses is that they tend to have relatively short routes and a lot of downtime in district lots during the day and overnight. This can give them ample time to fully charge with high-power AC charging and power management, reducing the overall charging infrastructure costs for schools. By installing the right mix of AC and DC fast charging solutions and using smart software to manage energy costs, schools can keep infrastructure costs down and avoid expensive demand charges for peaks in energy use.

Lion Electric and Blue Bird are just two of many companies producing electric school buses. Lion is an electric-first company that only makes electric buses, while Blue Bird is a longtime school bus standby that's moving into electrification. ChargePoint and ViriCiti have worked with these bus manufacturers in Cajon Valley and the Stockton United School District to electrify their school bus services, ensuring that vehicles are charged and ready at a low cost.
Improve job satisfaction for drivers
Hiring school bus drivers has been a challenge as demand fluctuated throughout the COVID-19 pandemic. Electric buses can be a way to pull in driver candidates. Driving an electric bus is a vastly superior experience to driving a loud, polluting diesel bus, and eBuses reduce drivers' exposure to pollution as well. The relatively long downtime between routes is perfect for easy charging, and drivers can feel good about knowing that their bus is helping kids stay healthy and learn about sustainability.
"Range is a consideration, but we charge for a few hours after each route. The driver loves how easy it is to recharge, and there's no chance of spillage like [with] diesel or gasoline."

— Brad Redmond, West Fargo Public Schools' transportation director
Join good company
Many cities are already in the process of taking their school and transit buses electric. A 2020 study evaluated school district and transit bus electrification projects and found that "most of the places where they were tested, electric buses have met or exceeded expectations in a broad range of climates and terrain types, often delivering significant cost savings."
The Twin Rivers Unified School District Transportation Department in Sacramento, California, has been a trailblazer, among the first school districts in the United States to choose electric buses. Their shift to electric has reduced fueling costs up to 80 percent, outperforming expectations and leading to an average savings of $15,000 per year.
Electrification is happening everywhere, not just California. In 2016, Massachusetts started to electrify its buses with a successful pilot project that took buses 14,000 miles over 279 days. Other programs are launching from Vermont to North Dakota and beyond. Some districts even have added solar panels to help generate clean energy for charging buses — a bright idea.
Our commitment to electrifying all vehicles has led us to join the Electric School Bus Coalition and work with other leading schools, technology companies, bus manufacturers and other organizations to lead the way in school bus electrification across the country and around the world.
There's more to come
School buses are just the start when it comes to clearing the air in local communities. California, New York City, Seattle and other cities have all announced the intention to shift to zero-emission transit fleets, meaning 33 percent of all transit buses in the U.S. will go electric by 2045. Proterra, BYD and New Flyer are leading eBus providers for transit fleets, and ChargePoint has helped VTA and other agencies electrify their routes.
Operating across North America and Europe, ChargePoint has dozens of school district customers that benefit from our expertise in the development, deployment and operation of electric vehicle charging solutions. We leverage the same experience, expertise and capability that transit agencies and bus manufacturers have relied on across North America since 2017 to serve school bus fleets with as many as 150 buses.
We think school bus electrification is a smart move. Get in touch so we can help you begin the process of electrifying your school bus or transit fleet.