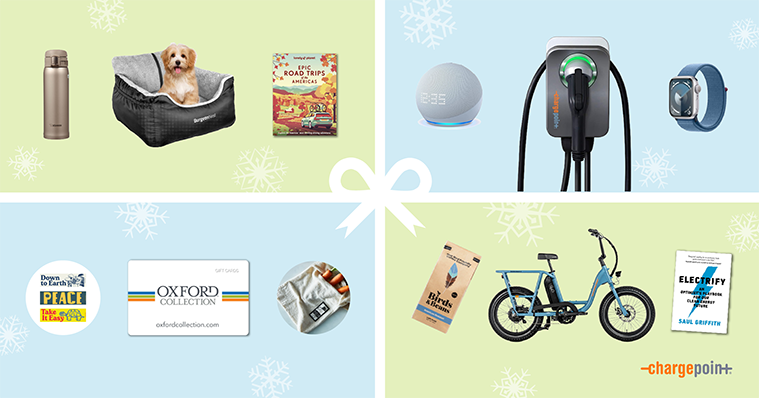 'Tis the season for spiked eggnog toasts, mistletoe smooches, twinkly holiday lights — and marathon gift shopping. If you're on the hunt for the best gifts for EV drivers or looking to treat yourself, look no further. We've got you covered. As a company by and for EV drivers, these are the gifts we're putting on our own wish lists.
(P.S. None of these items are sponsored so you can take our word for it.)
EV car accessories: Deck their ride
We bet the other EV drivers on your list already love their sustainable and money-saving ride. Playful car accessories will only make them love their electric lifestyle even more with a little extra oomph.
This cult-favorite travel thermos will keep them nice and toasty this winter. Drivers can take it on the go from the office to winter EV road trips, trusting it won't spill a drop.
Who doesn't want a disco at their feet? Fun car mats bring the party to your loved ones' EV — and keeps their car clean year-round.
The perfect guide for an epic EV road trip
Give the gift of the open road. This guide helps anyone plan their own Great American (Electric) Road Trip. Even better? They can hit the road this winter thanks to weatherproof EV and EV charging infrastructure and design.
For $80, this annual pass will give your EV driver access to every national park in the U.S. As if we could love majestic nature even more: Many national parks now have extensive EV charging.
A car dog bed for their furry friend
This adjustable car dog bed will keep the pup secure wherever EV drivers roam. Sturdy fabric and plenty of pockets are a bonus for the pup riding shotgun.
Smart EV and home charging accessories: Boost their EV lifestyle
Not sure what gifts to get the EV drivers on your list who have already personalized their ride? Smart tech can take your gifting and their EV lifestyle to the next level.
The perfect home charger for every EV, including Tesla
If you're looking for the go-big-or-go-home EV gift, you can't beat the perfect EV home charger. Not only will it work with every EV they will ever drive, but this smart home charger will also help them save time and money with scheduled charging, reminders to plug-in and an app that controls both their home and public charging.
The NACS connector cable kit for Tesla drivers
If your EV lover already owns a ChargePoint Home Flex, this nifty NACS connector cable kit will let them ditch their adapter and streamline their home charging experience.
Everyone could use a smart home assistant. We love Amazon's Echo Dot because EV drivers can synch their Home Flex charger and use Alexa to control their home charging for maximum convenience.
A custom sign for home charging
What to get EV drivers who truly have everything? A custom wood sign with a campground vibe will personalize their EV home charging setup and take it to the next level.
A smartwatch for more than keeping time
A smartwatch will raise your driver's EV lifestyle IQ. Thanks to nifty integrations with the ChargePoint app, drivers can use an Apple Watch to start charging instantly, pay for EV charging and see miles added to their EV range.
Sustainable and electric gifts: Lean into a better way to live
In addition to saving money and time, many EV drivers made the switch because they care about sustainability and the environment. The EV driver in your life will delight in these gifts that put the electric revolution — and nature — front and center.
A fun e-bike for exercise and errands
We celebrate the electrification of everything, including bicycles. An e-bike is the perfect way to run a quick errand in the neighborhood while releasing some endorphins.
A bird-friendly coffee subscription
Give the gift of bird-friendly coffee. Now their morning cup of coffee will support bird habitat conservation. We're all about everyday essentials that multitask with environmental benefits. (Just like EVs).
A Nature Conservancy gift membership helps conserve vital habitats around the world in your loved one's name. Talk about feel-good.
A good read on the electric revolution
The electric revolution is here to stay, and your fave EV drivers are a part of it. Give them this book to honor their passion about this important global shift.
A beautiful coffee table book about planet Earth
Nothing beats the beauty of our Pale Blue Dot. This time-lapse coffee table book captures the beauty and diversity of the planet we call home.
Impossible recycling made easy
Depending on where your EV lover lives, consider a gift card to Ridwell. Ridwell picks up, recycles and reuses your everyday waste for complete transparency and peace of mind.
Feel-good stocking stuffers: A merry mix of everything
Last but certainly not least, stocking stuffers bring the holiday magic to life. Whether you want fun EV gifts or sustainable odds and ends, we've got something for everyone.
Your EV lover can take a trip with their nose while they cruise. Choose from car fresheners that evoke places and scents from Los Angeles to a winter mantle.
Spread the chill vibes with these hip bumper magnets. Your EV driver will no doubt smile — and so will other drivers on the road. Did we mention zero car damage to boot?
These reusable storage bags work for everything from snacks to device cords while keeping plastic out of landfills. Convenient and cost-saving with a side of sustainability.
Nothing beats the cool sensation of a steel straw with a refreshing beverage. Say goodbye to polluting, single-use straws.
These produce bags have a cult following for a reason. They keep veggies fresh longer, saving money while reducing food waste. Win-win.
An EV-friendly hotel gift card
Where better to stay on an EV road trip than a hotel chain that supports the EV revolution? The Oxford Collection puts EV drivers front and center with abundant EV charging stations. EV lovers can enjoy a relaxing stay while their car charges up for their next adventure. All while supporting an aligned business.
Merry everything from the ChargePoint team!
We're excited to keep charging forward together in the new year.
Tip: If you bought an EV or home charger this year, don't forget to give yourself the gift of EV or home charging incentives.