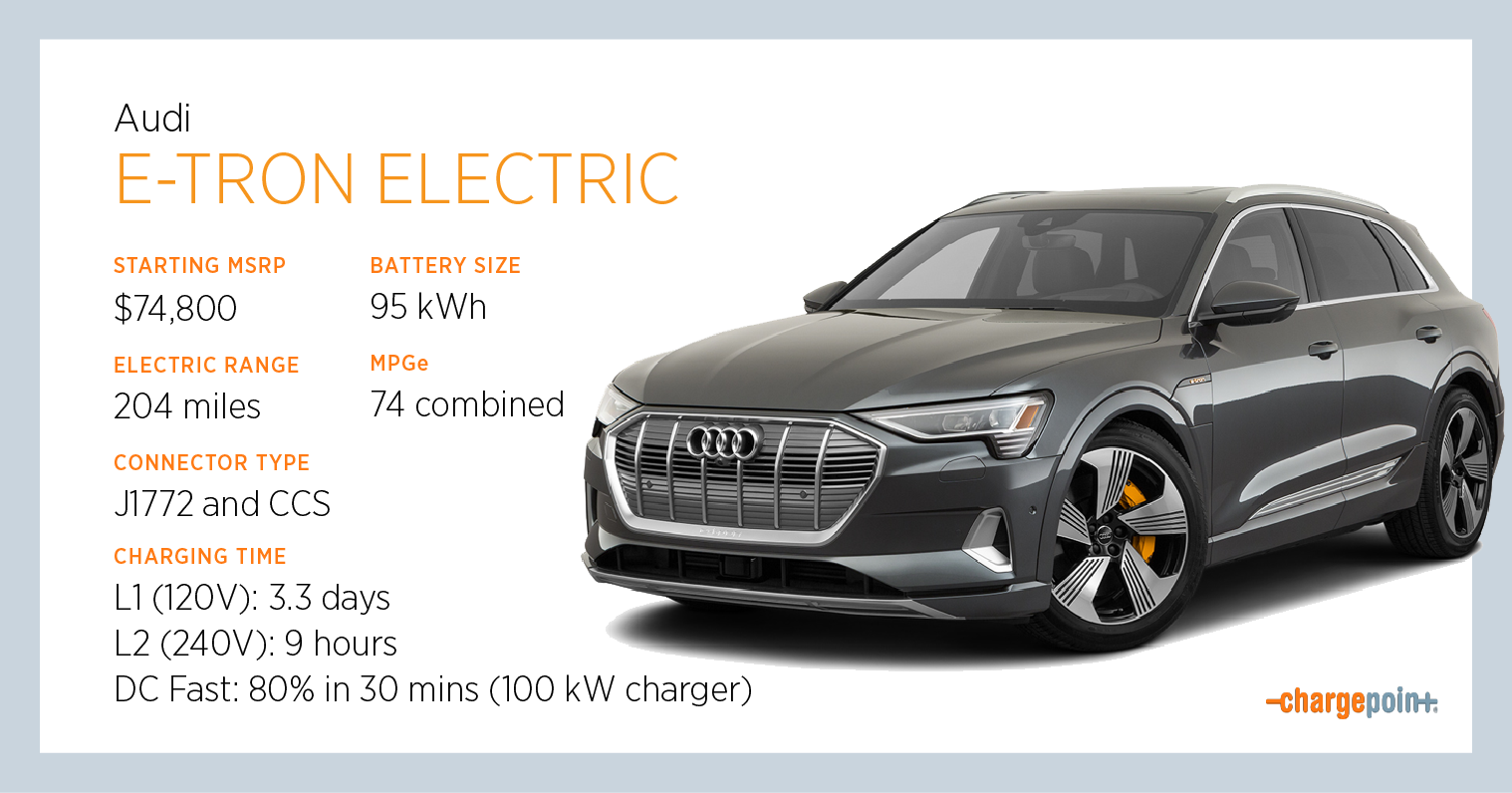 The e-tron SUV is Audi's first all-electric EV, and it has a 95 kWh battery rated for 204 miles of range. Audi's plug-in A3 Sportback e-tron has been on the market for a few years now, but the new all-electric e-tron SUV should be the first of many to be launching from the German automaker as the company has announced two new concept cars. With its sleek design and fast-charging capabilities, the e-tron is a great option for anyone looking to go electric, from city drivers to road trip lovers.
Starting MSRP$74,800
All-electric Range (battery size)204 miles per charge (95 kWh)
Level 1 Charging (120V)80 hours
Level 2 Charging (240V)9 hours
DC Fast Charging (CCS Combo connector)80% in 30 minutes (100 kW charger)
MPGe*74 combined
Seats5
Available Features
355 horsepower and 414 lb-ft of torque 
Regenerative breaking
Infotainment system, Smartphone interface with wireless CarPlay
WarrantyBattery warranty (8 year/100,000 mile)
Wheels5-spoke 20-in wheels
Styles
Audi e-tron Premium Plus – $74,800
Audi e-tron Prestige – $81,800 
*MPGe or miles per gallon gasoline equivalent measures the average distance traveled per unit of energy consumed. It's used instead of miles per gallon for electric and hybrid vehicles. 
Charging the Audi e-tron at Home
The Audi e-tron is super easy to charge at home if you can install a 240V Level 2 charging station like ChargePoint Home. This charger will replenish the SUV's full 204-mile range in about 9 hours. If you can only access a wall outlet and the simple Level 1 charger that comes with the EV, you can still get a full charge, but it will take about 3 days from empty.
Tip: If you don't live in a single-family home, we can help you get EV charging at your apartment or condo, as well as find places to charge around town with the ChargePoint app. 
Charging the Audi e-tron at Work and Around Town
Charging at work is a great way to ensure that you always have the range you need. Now that more and more workplaces are installing station as an amenity for their employees, it's easier than ever to get a charge at work. If your workplace hasn't installed charging yet, make sure to ask and you may soon be able to enjoy charging while working the day away.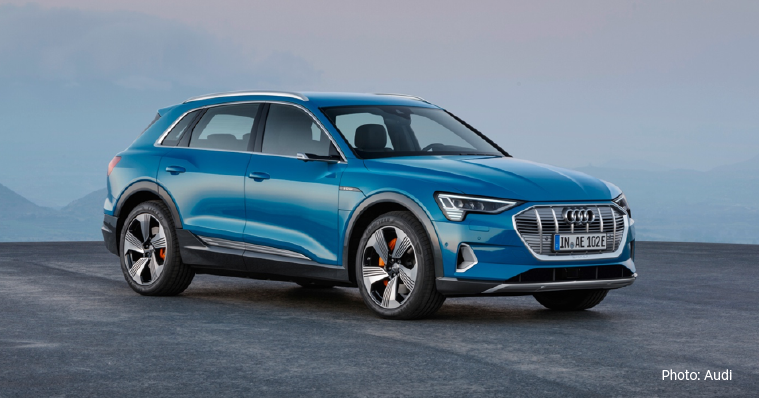 Similar to charging at work, many public places are offering EV charging for their customers so you'll keep coming back to charge and spend time in stores, restaurants or other locations. Search for places to charge in the ChargePoint app and once you find the station you want, simply tap your phone to unlock the universal J1772 connector and plug in. When charging on the go, you don't have to wait around for your car to charge. Instead, just go about your day and come back to more range. Most of the ChargePoint stations you see around town are Level 2 stations that charge at the same pace as ChargePoint Home, but you can also get quick range with the e-tron on any DC fast charging station. 
Fast Charging the Audi e-tron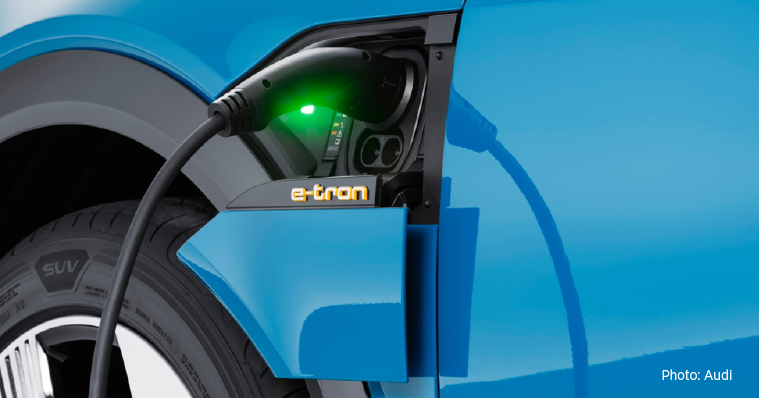 DC fast charging is a convenient way to get more range if you're in a time crunch, like on a road trip. The e-tron comes with a CCS Combo fast charging port and can get to 80% battery capacity (about 160 miles) in 30 minutes at a 100-kW fast charger. This Audi also promises 54 miles in 10 minutes with a 150-kW charger. If you select the Audi e-tron SUV when signing up for ChargePoint, the app will show you only the fast charging spots that work for your EV. When you get to a ChargePoint Express station, starting a charge is the same as at a Level 2 ChargePoint station. Just tap your phone and come back to more range in about half an hour. (Here's why you should aim to charge to 80%.)
How Much Will It Cost to Charge the Audi e-tron?
It will cost** drivers about $8.38 to go 100 miles in the Audi e-tron SUV. This is slightly more expensive than charging other EVs, but still cheaper than paying for gas. You'll probably pay less than that on average, as many public charging stations have free or discounted charging because businesses want you to visit. ChargePoint station owners set and change their own charging fees to work for their business, so make sure to check the station details page for the most up-to-date pricing info. Keep in mind that costs will vary across stations and EV charging networks. You can use several other networks, including FLO, with your ChargePoint account.
To help make up for the higher price point of the Audi e-tron, you may be eligible for a special EV charging rate plan and grants and rebates. You can also get an idea of how much you can save by driving electric using our EV savings calculator.
What's next for the Audi e-tron?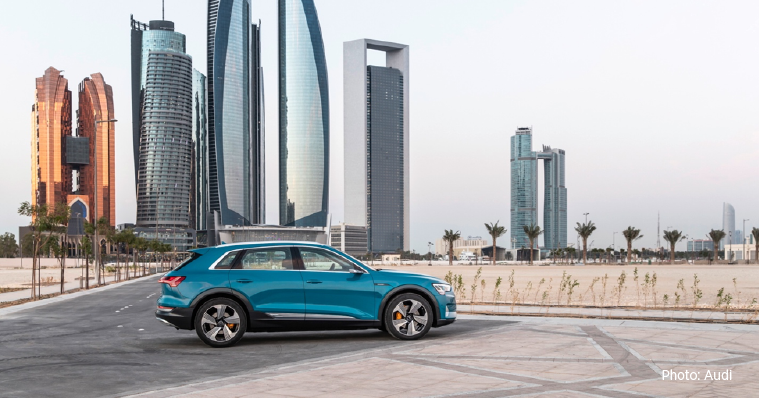 The all-electric e-tron SUV is Audi's first entry in a burst of luxury EVs hitting the market in the next few years. With two concept sports cars already announced, the e-tron SUV is a practical luxury option that still offers great range and a fun drive. Car and Driver confirms, "Our initial driving impressions revealed that the e-tron was swift and composed. Its snappy acceleration is typical of electric vehicles, and the smooth and quiet ride quality asserted its luxury pretenses."
Excited for the Audi e-tron SUV? Don't forget to sign up for ChargePoint when you get yours.
**Cost to drive X miles = (X miles / electric range of vehicle) * size of battery pack * cost of electricity (average $0.18/kWh on paid public charging sessions on ChargePoint)