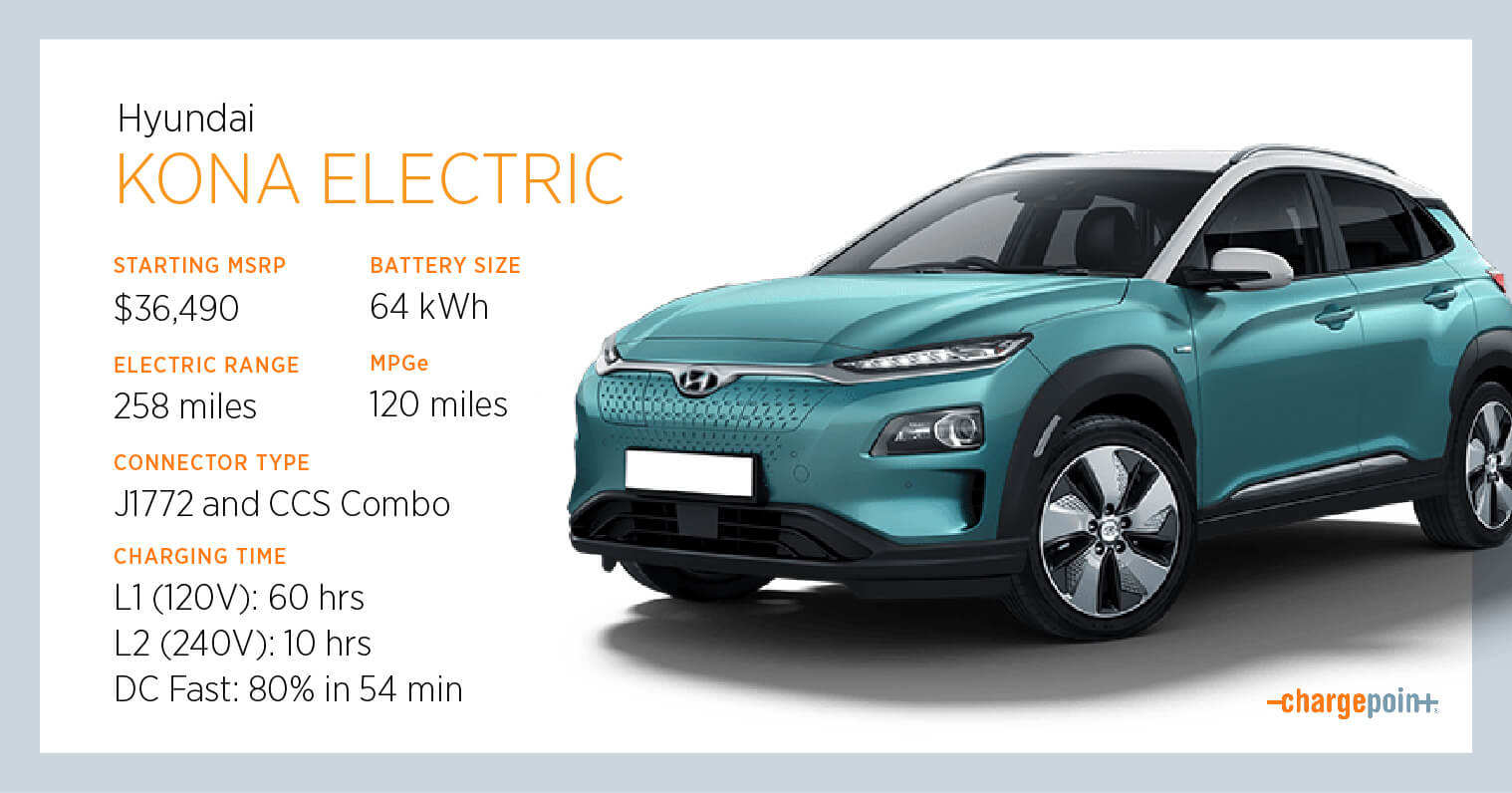 The Hyundai Kona Electric, an all-electric crossover utility vehicle with 258 miles of range, has DC fast charging capability to help you make the most of that range. (Of course, you'll still do most of your charging at home and work, even with a longer range and fast charging.) This crossover's reasonable size makes it a great choice for all kinds of drivers, including families and people who want to haul some extra stuff. The Kona joins the Hyundai Ioniq Electric and PHEV in the Hyundai lineup as part of the Korean company's push to be a top 3 EV maker by 2025. It looked so great that we gave it a test drive!
"If you are considering an electric vehicle, you might want to draw up a new shopping list. And you should probably pencil in the Hyundai Kona Electric on the first line."
 Hyundai Kona Electric 
Starting MSRP 
$36,490 (without $7,500 federal tax credit) Tiers
SEL ($36,450)
Limited ($41,150 adds sunroof, leather seats, LED headlights)
Ultimate ($44,650 adds 8-inch color touchscreen, Heads-up Display, Smart Cruise Control with Stop & Go) 
All-electric Range (battery size) 258 miles per full charge (64 kWh) 
Level 1 Charging Time (120V) 
2.5 days 
Level 2 Charging Time (240V) 
9 hours and 35 minutes 
DC Fast Charging Time (SAE Combo / CCS connector) 
80 percent in 54 minutes 
MPGe* 
120 combined city/highway 
Seats5
WarrantyLifetime Electric Battery Warranty 
AwardsNorth American Utility Vehicle of the Year™ 
0 to 606.4 seconds
Other Features
201 horsepower and 290 pound-feet of torque 

19.2 cubic feet of cargo space (45.8 with seats lowered) 

Android Auto™ & Apple CarPlay®  

Blind-Spot Collision Warning  

Forward Collision-Avoidance Assist 
*MPGe or miles per gallon gasoline equivalent measures the average distance traveled per unit of energy consumed. It's used instead of miles per gallon for electric and hybrid vehicles. 
Charging the Hyundai Kona Electric at Home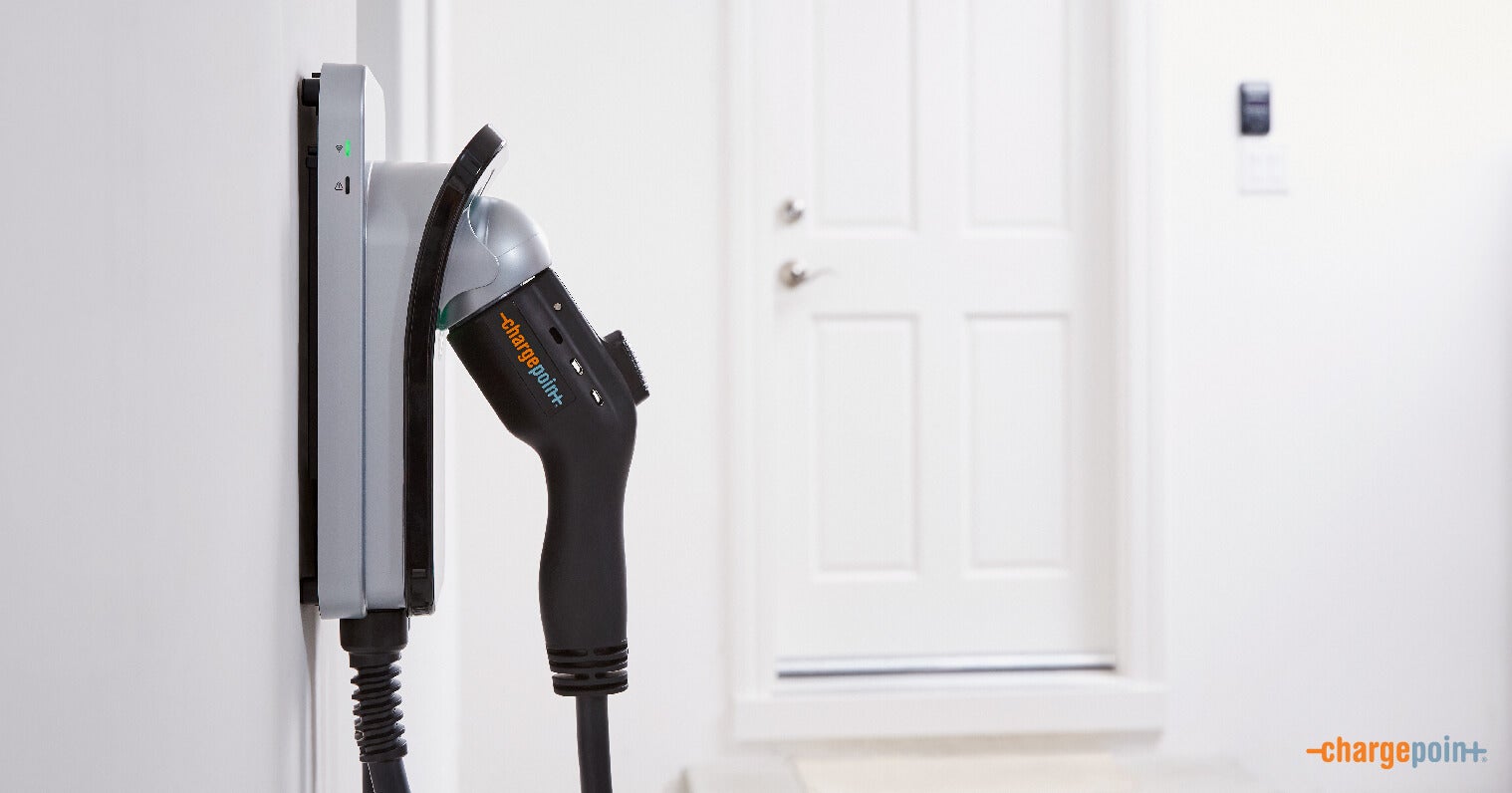 The Hyundai Kona Electric is super easy to charge at home if you can install a home charger. You'll get a full 258-mile charge in under 10 hours using a 240V "Level 2" AC charger like ChargePoint Home. If you can only access a wall outlet, it's simple (though slower) to charge the Kona using the Level 1 charger that comes with the car. That will take about two and a half days from an empty battery. 
Tip: If you don't live in a single-family home, we can help you get EV charging at your apartment or condo, as well as find places to charge around town with the ChargePoint app. 
Charging the Hyundai Kona Electric at Work and Around Town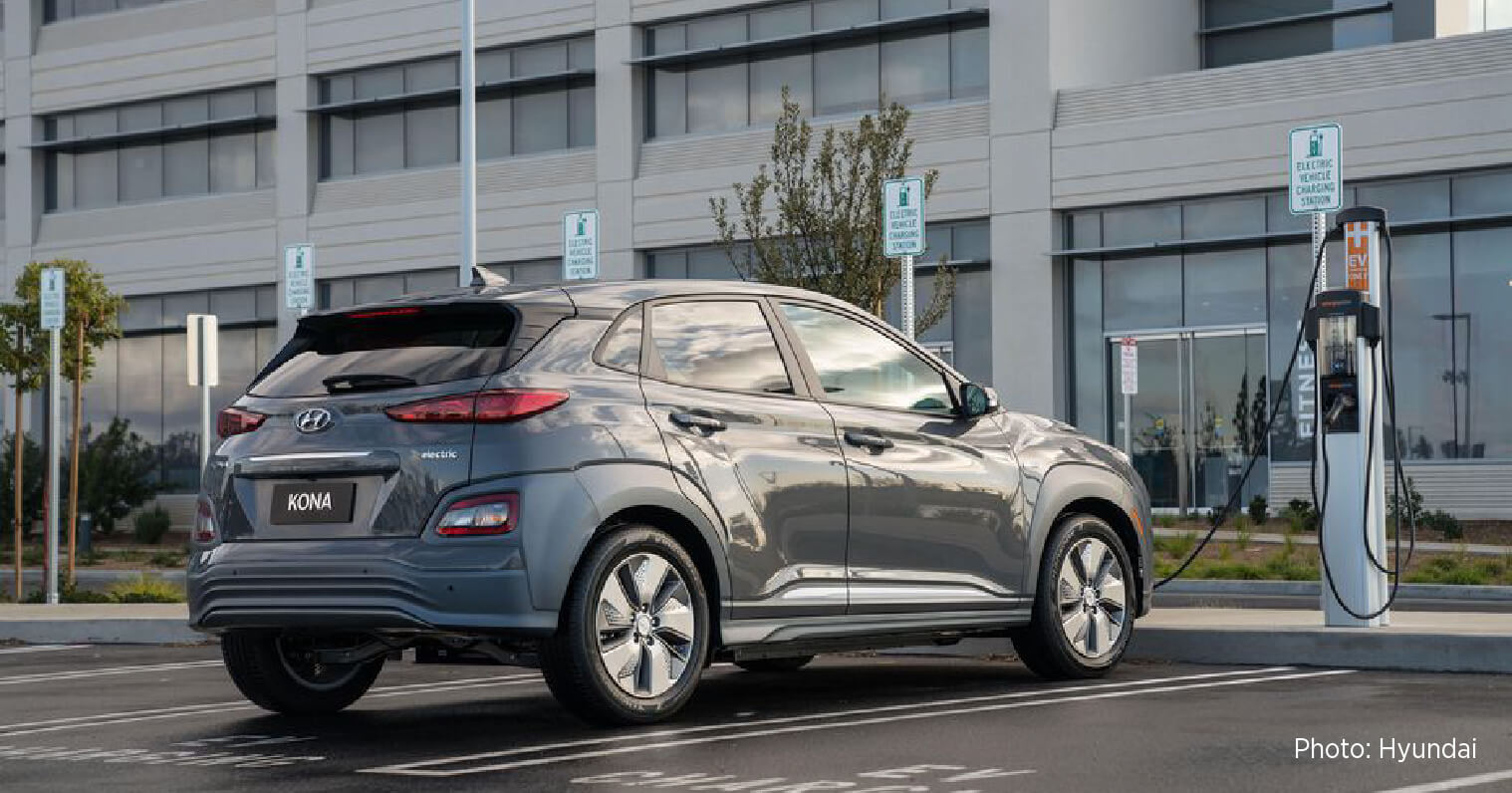 More and more workplaces are offering EV charging as an amenity for employees. If your company doesn't yet, ask about the option and you may soon enjoy the convenience of charging up while you work the day away. While you may not have noticed them if you don't already drive electric, there are often charging spots at restaurants, stores and other places you spend time. Charging at work or around town is a great way to keep your battery topped off.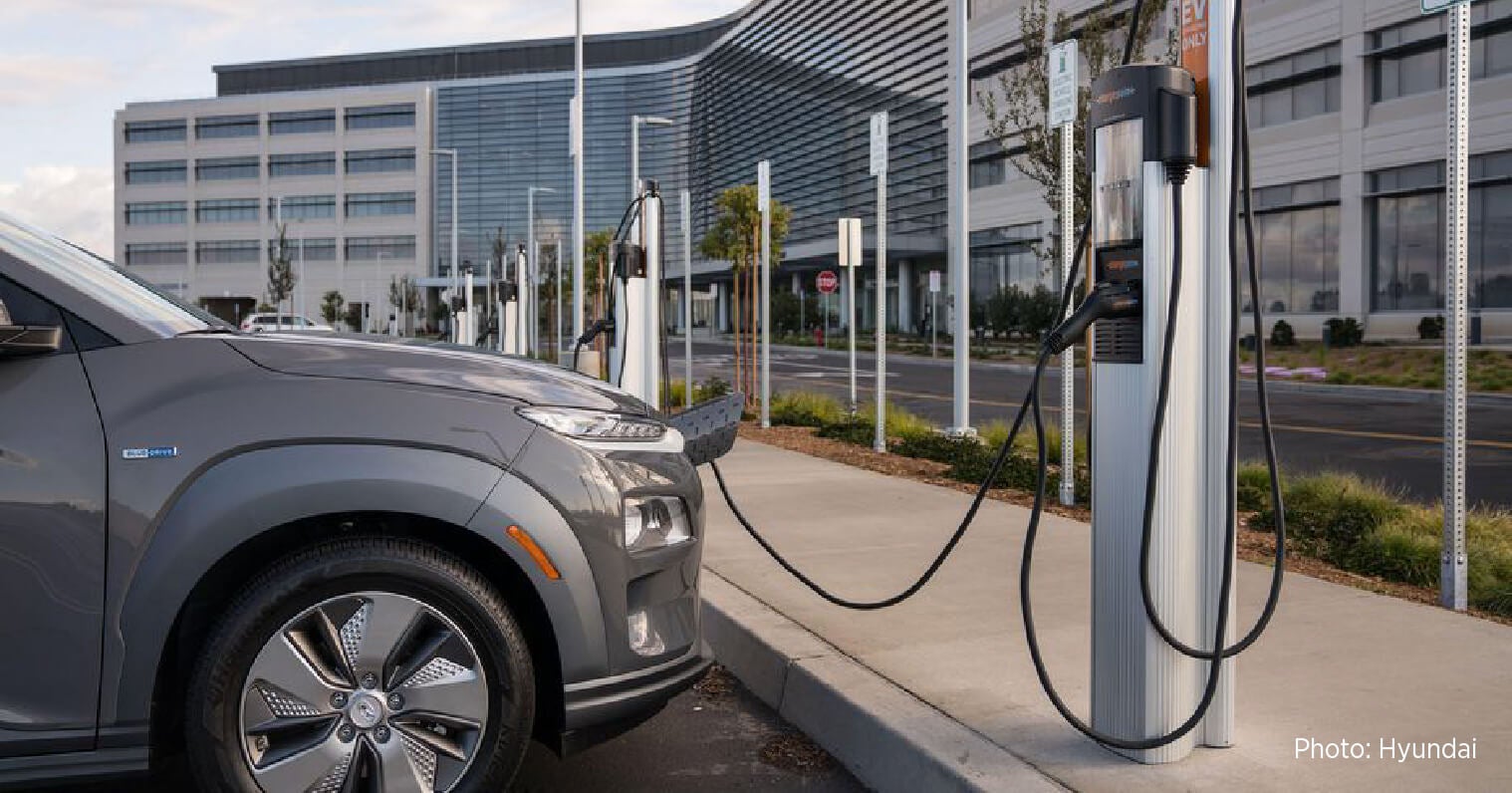 For Level 2 charging at work or around town, the Kona uses the universal J1772 connector, which is supported at every ChargePoint Level 2 charging station. Like charging at home, the best part about charging at work or around town is that you can go about your day while charging, instead of waiting around for your EV to refuel. You can discover places to charge near you in the ChargePoint app and just tap your phone on any station to start charging. 
Fast Charging the Hyundai Kona Electric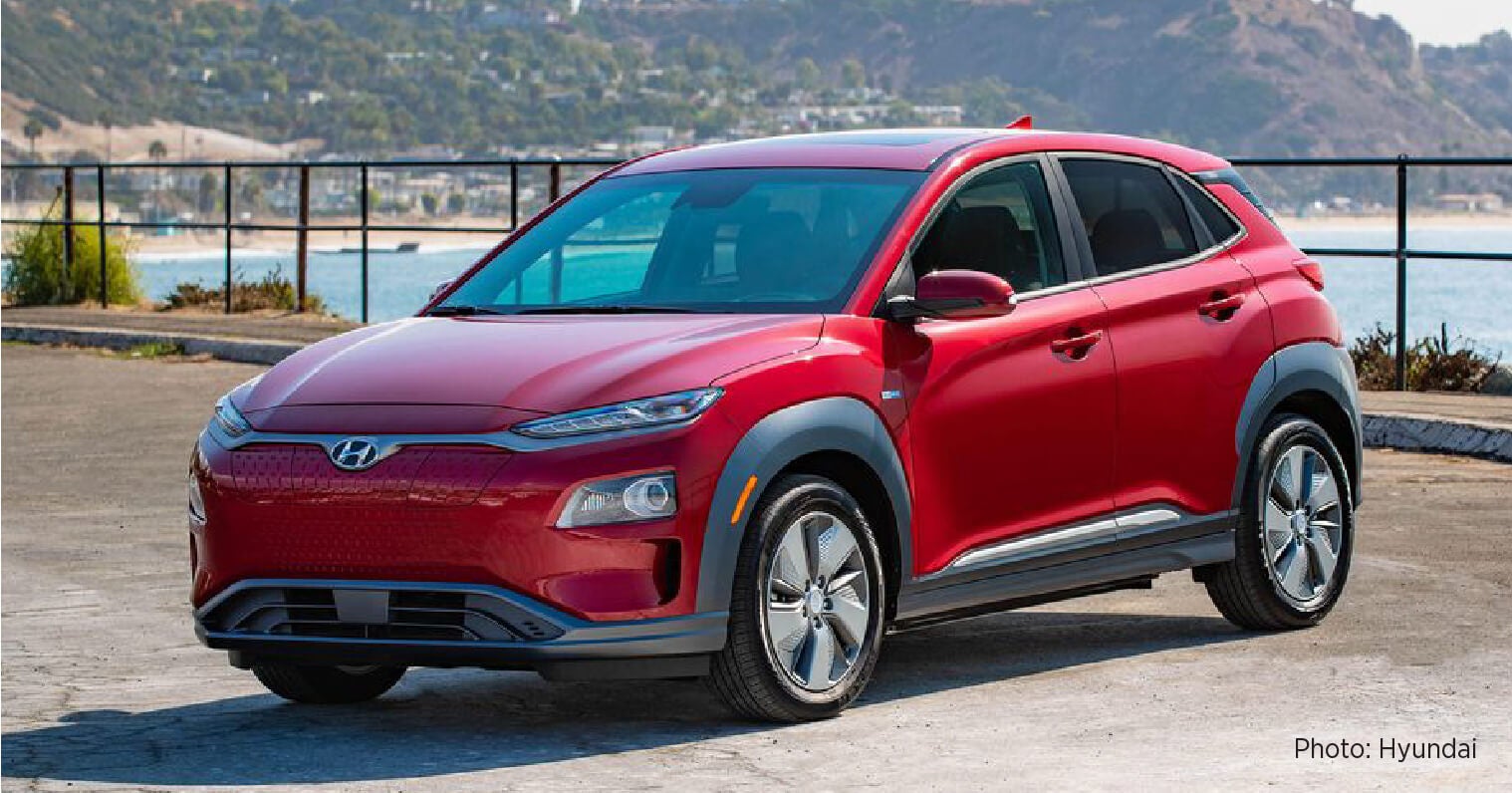 Fast charging is perfect for adding mileage quickly during long trips or when you really need a charge. The Kona Electric uses the popular SAE Combo (CCS) fast charging connector and is said to be able to add about 80 percent of battery capacity (206 miles) in 54 minutes. 
"Kona should make a big splash in the non-luxury end of the battery-car segment... It's a really exciting choice in the electric-car space because it doesn't seem to ask many compromises at all of its buyers."
It's simple to find fast charging spots and check the cost of fast charging in the ChargePoint app. If you select the Hyundai Kona Electric as your vehicle when setting up your ChargePoint account, the app will only show you fast charging spots that work with your EV. Once you find a station, you can check the estimated cost to charge in the app, then start a fast charge just like any other charge: simply tap your phone on a ChargePoint Express station, then plug in. 
How Much Will It Cost to Charge the Hyundai Kona Electric?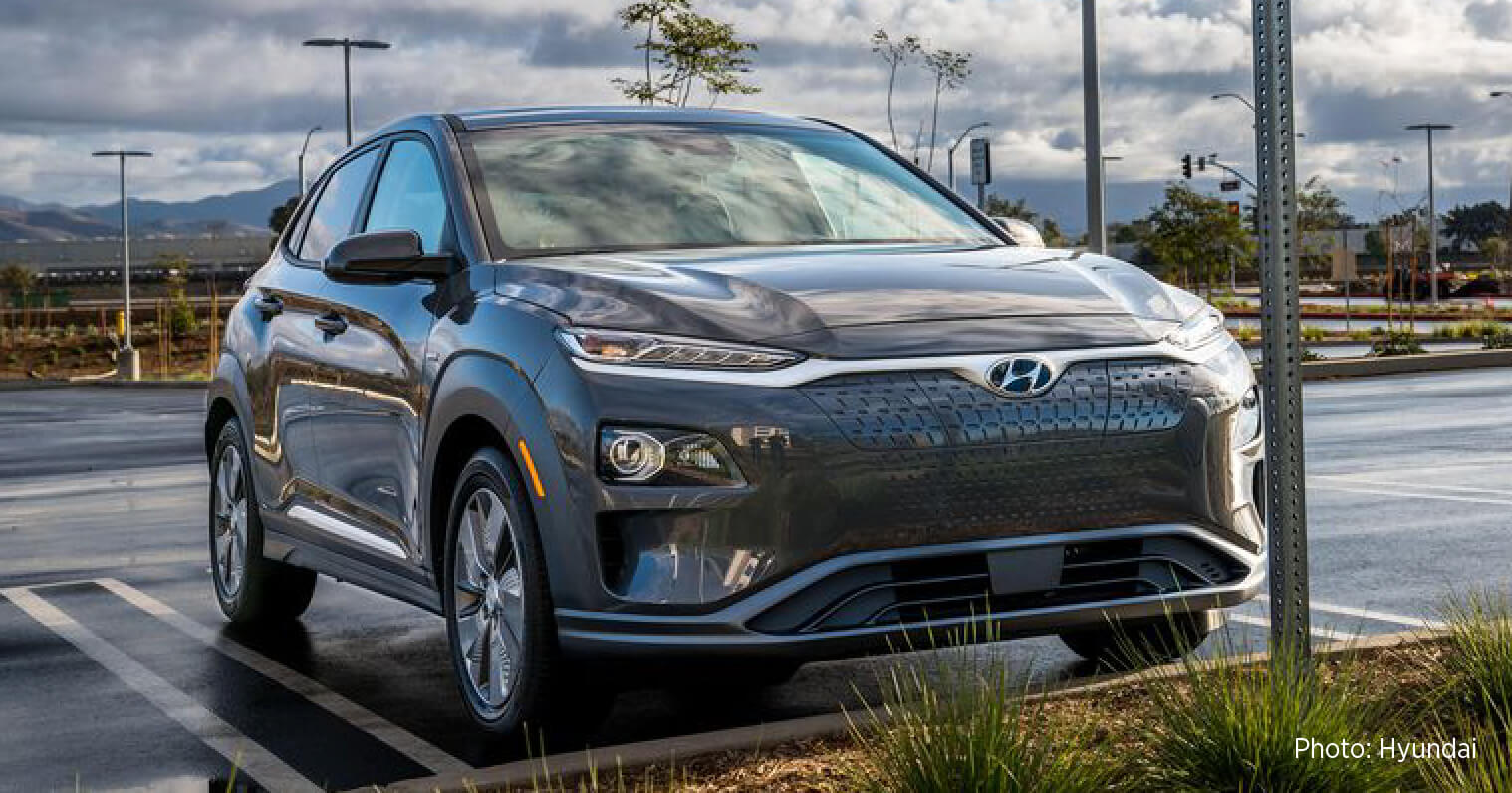 Based on average cost to charge, it will cost** drivers about $4.46 to go 100 miles in the Kona using public charging. However, keep in mind that most ChargePoint stations are free to use, so you won't always be paying to charge. Many businesses offer charging for free or at their cost because they want you to visit. The cost of charging can vary between different EV charging stations and networks. ChargePoint station owners set their own charging and parking fees depending on their needs, and you can always check station details in the app for the latest pricing information.  
The cost to charge at home will vary depending on how much you drive and how much electricity costs in your area (and if you can get a special EV charging rate plan), but it's likely to be much less than the average paid public charge. Plus, you can save even more with the many incentives for buying an electric car or home charger incentives. Getting money back for driving electric helps offset the slightly higher price point of some EVs.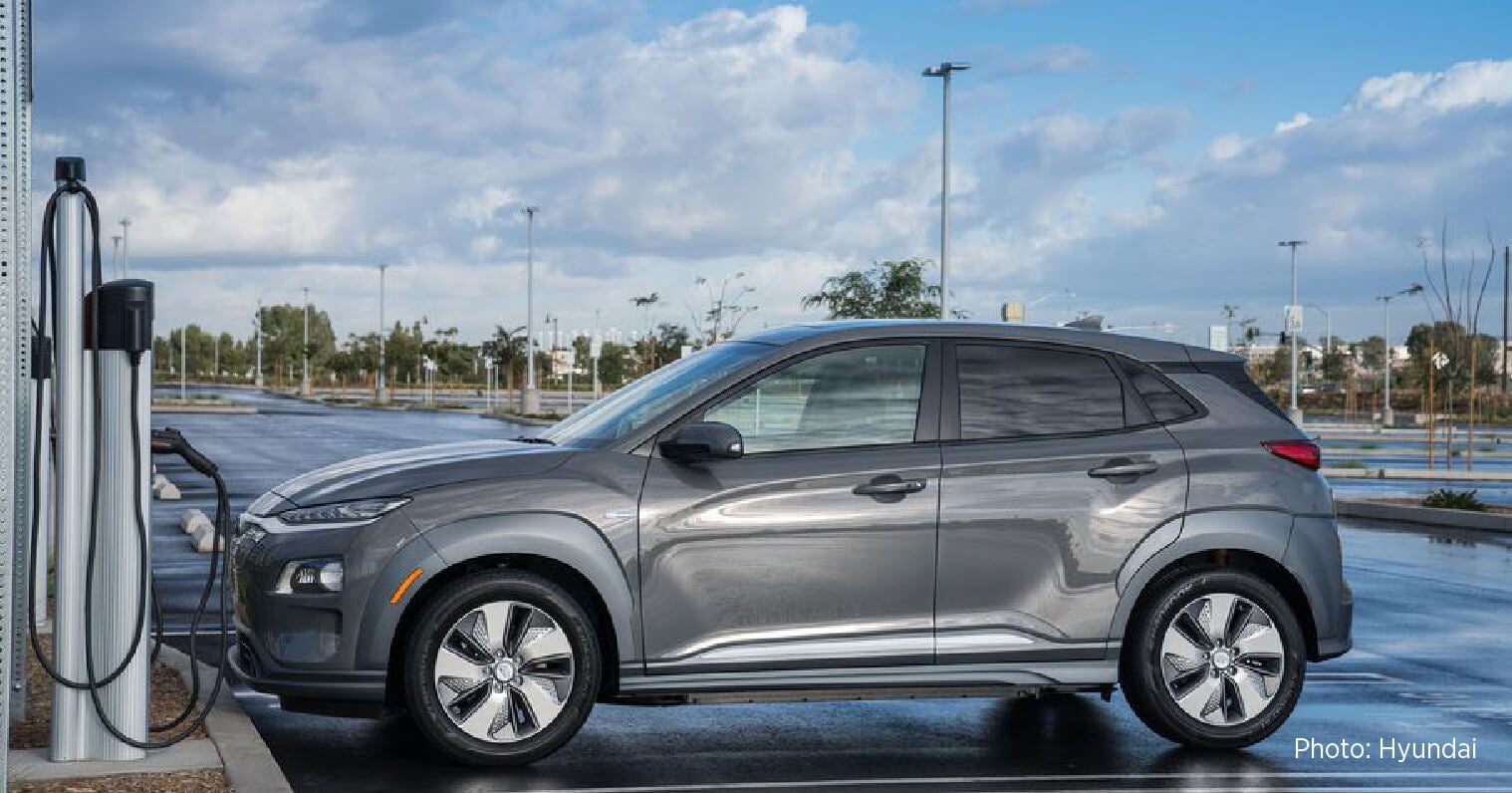 The Hyundai Ioniq and Kona Electric are just the beginning: by 2020, Hyundai plans to put out an EV on a dedicated all-electric platform in its quest to be a leading electric automaker. 
Are you excited about the Kona Electric? Don't forget to sign up for ChargePoint when you get yours. 
**Cost to drive X miles = (X miles / electric range of vehicle) * size of battery pack * cost of electricity (average $0.18/kWh on paid charging sessions on ChargePoint)