There's nothing like waking up fully refreshed and excited to start your day. It's even better if your EV is fully charged and ready to take you where you need to go. Research shows that most EV drivers do about 80 percent of their charging at home. As an EV driver, I know it's important to find a home EV charger that's not only fast, but also efficient, connected and convenient for your lifestyle.
Many people make do with a wall outlet, but a Level 2 home EV charger like ChargePoint® Home can help you get the most out of your EV by adding up to 25 miles of Range Per Hour. Most of us spend at least eight hours at home each day. That's more than enough time to fully charge pretty much any EV before you need to leave the house and quickly add enough range for multiple trips throughout the day.
The speed of charging matters, of course, but there are many more factors that can make a home EV charger delightful to use and suited to your lifestyle. In this post, I'll share three ways to fit home charging into your lifestyle and make owning an EV as easy as possible.
Use Energy Efficiently
Research shows that 94 percent of homebuyers want efficient ENERGY STAR® certified appliances to help them use less energy and save on their energy bills. Because EV charging can use as much energy as the rest of your house, it's extra important for your charger to be efficient. With that in mind, ChargePoint recently worked with the Environmental Protection Agency (EPA) on creating the first ENERGY STAR certification for EV chargers.
A charger can become certified by being tested and proven to use energy efficiently in standby mode, when it's not charging. EV chargers are not in use about 85% of the time, so the EPA estimates that more efficient EV chargers could save 280 million pounds of greenhouse gas emissions each year, the equivalent of taking 26,000 gas-powered vehicles off the road. The EPA also requires chargers to be safety listed to earn ENERGY STAR certification, providing further peace of mind for EV drivers.
"LOVE IT... I appreciate the convenience of scheduling charging so I can pay less to the power company."
– Jade, EV driver and Home owner
ChargePoint Home is the first (and, so far, the only) EV charger to earn ENERGY STAR certification. Because ENERGY STAR applies to chargers in standby mode, you can be confident that it's efficient and safe to leave Home plugged in when you're not charging. Like Jade, one of my favorite features is scheduled charging, which lets me plug in my car when I get home and count on Home to start charging at the best time to save money. That's about as simple as home charging can get.
Activate ChargePoint Home to schedule charging
Connect with the Rest of Your Smart Home
Keeping your home energy use under control starts with efficient appliances, such as ENERGY STAR certified appliances, but also requires a clear view of how much energy you're actually using. To achieve this, you could either break down your utility bill in detail or simply connect your smart appliances to get a single comprehensive view of your energy use.
More than 42% of homebuyers are interested in smart home features that can help save energy. Home works with Nest to give you a complete picture of home energy use in your monthly Nest Report, so you can see whether your energy use is increasing over time and where you might be able to cut back. A combination of stylish design and smart home features motivated EV drivers to vote for ChargePoint Home to win the Architizer A+Award for Popular Choice in the Smart Home Category. Architizer is the world's largest and fastest growing website for architecture, and the A+Awards program attracted entries from over 100 countries evaluated by 400 expert judges.
Think About What's Next
Like me, you probably love the EV you have right now: there's a reason EVs rank at the top of satisfaction reports. But what about the next EV you get? It's smart to think ahead and make sure your home charging setup will be ready for your next EV, not just your current one. ChargePoint Home works with every EV on the road and there are Home owners driving all of the top 10 EV models by sales plus many more.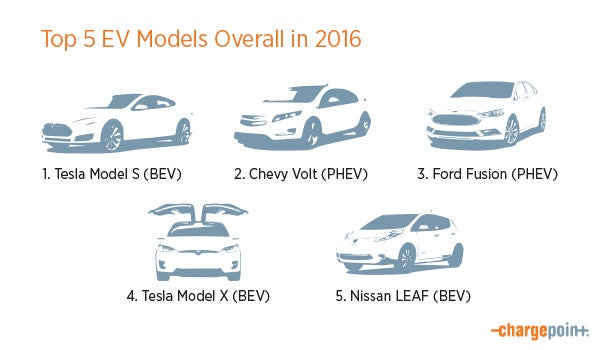 Once you have a home charger, you will use it a lot. ChargePoint Home owners like me have come to rely on the charger, and Home has delivered over 1,000,000 charging sessions and counting! On average, Home owners add a little more than 30 miles per charge, which is close to the expected daily driving range. Most charging sessions start at 7 PM or 11 PM, indicating that people either plug in when they get home or schedule charging to take advantage of off-peak rates.
I love having Home in my garage and Home owners tell us they enjoy charging at home. We think you'll appreciate the convenience of charging at home too.
Already have Home? Find an installer.