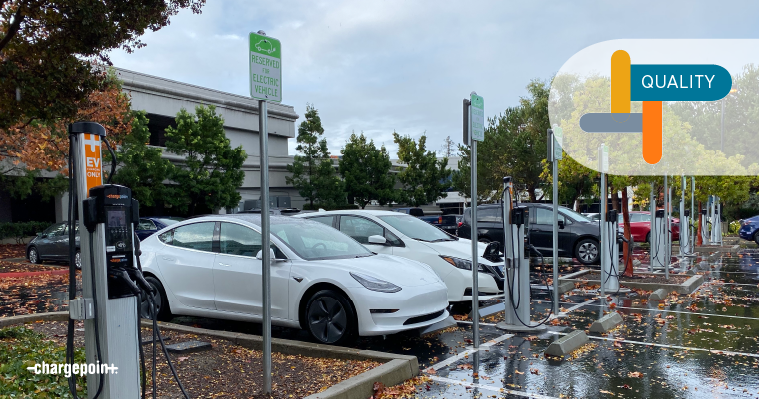 Since we were founded, ChargePoint has stayed focused on a few core principles: a great charging experience, seamless scaling, unparalleled quality and responsive service. These elements are in our DNA, in our solutions and in the mind of every ChargePointer. In this blog series, we explain why these principles are so important to us and how we bring them out into the world through our work.
Imagine you're out on a long trip in your EV and you recognize the prompt need to find a place to charge. It's late, it's cold and you don't want to risk finding a station that's already in use or, worse, broken. Do you want to count on a convenient app that shows the current availability of a station that was tested relentlessly to work in all weather conditions? Or do you want to take a chance on a station that's not connected to any network?
That's why I work at ChargePoint, where we do everything we can to design in quality from the beginning and test to ensure quality every step of the way. As the leading company providing reliable charging solutions across all kinds of diverse environments, we have unique challenges and opportunities when it comes to charging. The customers who buy our solutions and the drivers who use them need to be able to trust that our solutions will consistently work, whether a new EV driver is trying to charge in the middle of the night in a remote location or a fleet manager is scheduling charging for mission-critical delivery vehicles. The need for our solutions to be up and running all the time requires us to take aggressive measures to ensure our products and services deliver the highest level of quality. In this post, I'll tell you more about what we do to make sure we're always there when you need us.
Design in Quality
At ChargePoint, we design in quality from the very beginning. Whether we're writing software requirements, laying out circuit boards or designing a site with multiple chargers, we do it all with quality and availability in mind. One of the most important aspects of designing for quality is building in diagnostics and analytics from the start so that our customers can rely on predictive monitoring for proactive alerts that something might be wrong. Monitoring delivers peace of mind and gives businesses confidence in our solutions.
Know When to Move Fast... or Slow
Though it takes longer to design for quality upfront, taking the time for thoughtful design has actually allowed us to move ahead of the market. We obtained UL listing for safety, were the first company to receive ENERGY STAR® certification for efficiency and complied with local energy metering requirements ahead of other charging companies. This extensive third-party validation confirms that our customers and drivers can count on us for safety, efficiency and accuracy—all because we take the time to do it right.
That said, we also know when to move fast. Our biweekly software releases give us the opportunity to do this, making sure we're always improving our products and offering new features. We take quality seriously, down to the smallest detail. By being methodical and moving at the right speed, we can ensure that we are improving with time.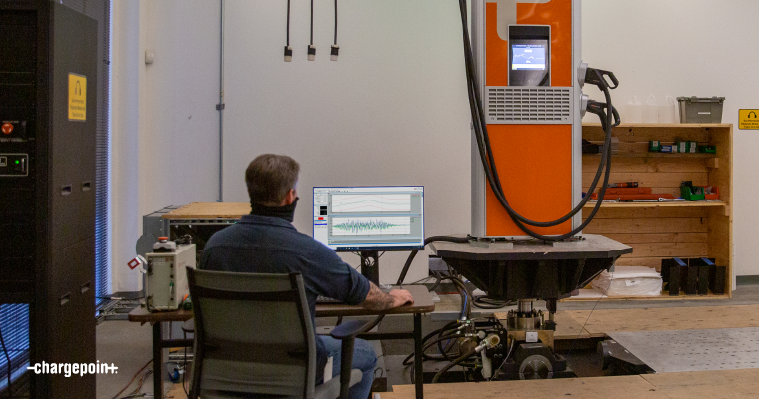 Integrate Everything
Most importantly, by designing and implementing hardware and software together, we can provide a level of quality that's unparalleled in our industry. Instead of spending a lot of time fitting disparate pieces together, we design the components to work seamlessly from the start. We develop and test all of our software and hardware together, in-house, so everything is optimized for a great experience. Software-designed hardware performs better and is more reliable, providing a better user experience.
Some companies try to improve commoditized hardware with third-party software or vice-versa. No matter which pieces you put together, making hardware and software play nicely together can take longer and cost more than you think. There's a reason the iPhone led the way for other smartphones and has become the gold standard: software and hardware work better when they're designed together.
Test, Test and Test Again
You might have heard that we're the only charging provider with an advanced in-house test facility (spanning an impressive 16,000 square feet). That's where extensive mechanical, environmental, operational and system testing happens. It takes a vivid imagination to puzzle out the breadth of testing that occurs: heat, rain, dust, humidity, impact, stress testing, and beyond. There's even a shock and vibration table to simulate the effects of transportation and earthquakes. Our team puts our designs to the test like no other. We do it all ourselves so we can count on our results being accurate, hold ourselves accountable—and so you can count on our products to work when you need them.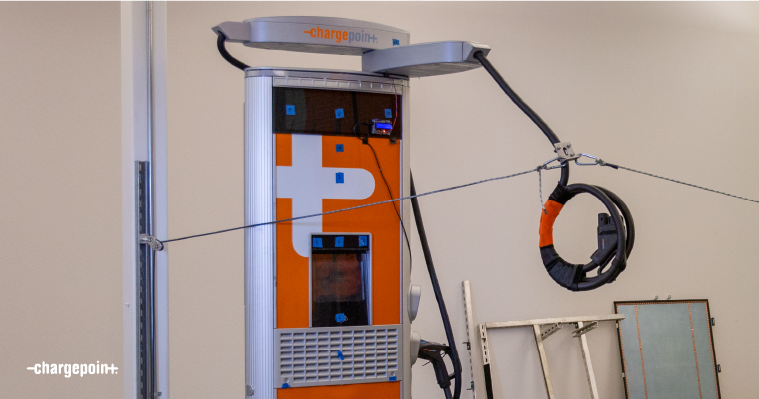 In addition to our test facility's array of environmental chambers, we're proud of our quality assurance team on the software side. The team puts everything we code through its paces before software gets released to drivers and customers to make sure that it works as it was designed to and meet the level of excellence we demand for everything with our name on it. That's how we've improved our app to be among the top-rated transportation apps around, with more than 4.5-star average ratings. Quality is required to be the best in the industry so that's what we do.
Make Sure It Works in the Real World
By designing for quality and testing thoroughly, we can provide reliable charging at scale. And we've seen our efforts pay off. Our EV charging solutions have to function well in a wide variety of contexts: single-family homes, multifamily communities, big city transit fleets, along major freeways and in countless other locations. No matter where they are, what the weather or who is using them, they just work. Because you need to know that your electrification situation is stable.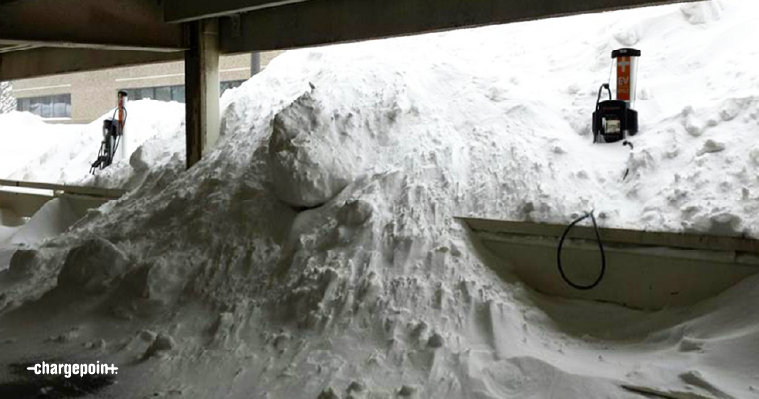 Support When Needed
No matter how great the product quality is, it's still possible for something to go wrong. That's why we've built in proactive monitoring and diagnostics, designed an industry-leading warranty and assembled a team of expert installers and support agents who can help you fix problems. Station owners can call us for help during business hours and drivers can get in touch with support anytime. We'll get you the right answer and make sure you get a charge. Our support team is locally based for most markets (including the U.S.), drivers wait for less than 20 seconds to get help and drivers have 95% satisfaction with support agents. Not bad.
Count on Getting the Charge You Need
Ultimately, quality comes down to peace of mind—knowing you can find an EV charge that just works. Safety is core to our belief structure, so we follow the toughest standards and take a conservative approach to ensure your and your family's safety. In addition to safety, we also pay close attention to privacy. We take your data seriously and have achieved an industry standard of excellence on security and privacy with SOC 2® certification.
At the end of the day, it's all about people getting where they need to go, emission-free. That's why we're here. And that's how our customers have been successful with our product for more than a decade. As Mandi McKay, Sustainability Manager at Sierra Nevada, which has had EV charging since 2009, says, "Because we were such an early adopter, we've been able to grow up with ChargePoint. ChargePoint is the leader and the most well respected and we've had such success."