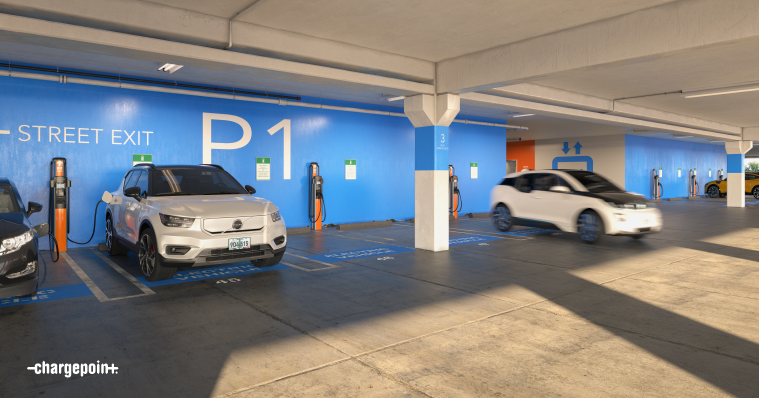 Seeing more electric vehicles (EVs) pulling into your lots? If you haven't already, you will very soon. Global sales of passenger EVs are expected to surge over the next few years, rising from 10.5 million in 2022 to approximately 27 million in 2026, according to the 2023 BloombergNEF (BNEF) Long-Term Electric Vehicle Outlook report. BNEF predicts that in the U.S., thanks to a new round of federal incentives, EVs will make up about 28% of passenger vehicle sales by 2026.
These numbers mean parking lots will be filling up with EVs looking to get a charge. The new way to fuel will be more like plugging in your phone while you do other activities (in this case, shop, work, dine out, go to appointments and more) rather than making a special stop at a fueling station.
This new fueling movement gives parking operators — and other businesses — a big opportunity to stay competitive by offering an all-inclusive parking experience that includes EV charging. It's also a way to generate a new revenue stream by attracting the growing number of EV drivers to your parking facility who are visiting shops, restaurants and offices nearby.  
It's clear that EV charging will be desired by customers, but how do you get set up in a way that will have a positive impact on your bottom line? Let's break it down.
1. Transform parking spots into multiuse parking and fueling space
Keep costs down by increasing efficiency through integrated technologies that allow you to seamlessly add EV charging to your mix of parking services. Level 2 AC charging can add 25 to 40 miles of range per hour, making it a good choice for parking facilities because drivers typically stay parked for an hour or more. Offering charging may even help increase the length of time some drivers stay parked in your facility, which gives you a revenue boost in terms of your hourly parking fees.
Manage EV charging alongside existing parking systems using a single intuitive platform. You'll be able to match incoming vehicles with open charging spots and guide drivers to free spaces, then track usage to scale strategically and cost-effectively. Integrate EV charging into your valet systems as well.
Not only will you draw new customers to your parking facility, but you'll be helping build out the new fueling network, which will future-proof your business and support a sustainable future. 
2. Make your parking facility easy to find
EV drivers rely on EV charging apps or in-dash systems to quickly find convenient places where they can charge, including parking facilities that offer charging. EV drivers will look for their preferred charging brand as well as appealing nearby amenities or businesses they can visit while parked and fueling at your facility.  
 
When selecting an EV charging solution, choose a partner that makes your location easy to find through a popular app and that provides the ability to easily integrate with other services drivers use, such as Android Auto, Apple CarPlay and in-vehicle systems.
3. Deliver a premium EV charging experience with a familiar brand
Once EV drivers find your parking facility, they'll appreciate an easy and familiar charging and payment experience, whether it's a charging brand they know because it's already in their home or an in-vehicle experience that's intuitively integrated into their driving habits. You'll build loyal customer relationships and bring in more revenue by choosing a charging leader that EV drivers already rely on. And you'll be assuring existing customers that they can make the transition to driving electric with no change in their parking routine.
In the same vein, make sure your charging stations are easy to find and use within your facility, with clear signage and convenient access. If it's difficult for drivers to find and use your stations, they'll choose another parking location and bypass your facility entirely.
4. Dynamically price services based on demand
Control pricing for charging sessions to cover electricity costs and meet your revenue goals. A comprehensive charging solution allows you to set pricing according to energy dispensed (cost per kilowatt hour), time spent charging, a flat rate or a combination of these factors. The pricing strategy that is right for you will depend on your business model, utility rate plan, other services you offer (such as valet parking, monthly rates or fleet charging) and how long most drivers spend at your facility. Choose a charging provider that gives you the flexibility to set a pricing strategy aligned with your business.
5. Avoid high upfront costs with a monthly subscription
Bundle installation, hardware, charging management software and expert services to provide a comprehensive charging service into one simple subscription. You'll save time and money with minimal overhead and predictable operational expenses. Easily pass costs on to your clients with a simple line item for the monthly subscription.
6. Manage energy usage to keep operating costs down
Monitor energy usage in real time and set a power ceiling to avoid expensive utility demand charges. Use power-sharing software to dynamically share electricity between stations to charge more vehicles with less energy and avoid infrastructure upgrades as your needs change.
Want to learn more about adding EV charging to your parking facility?