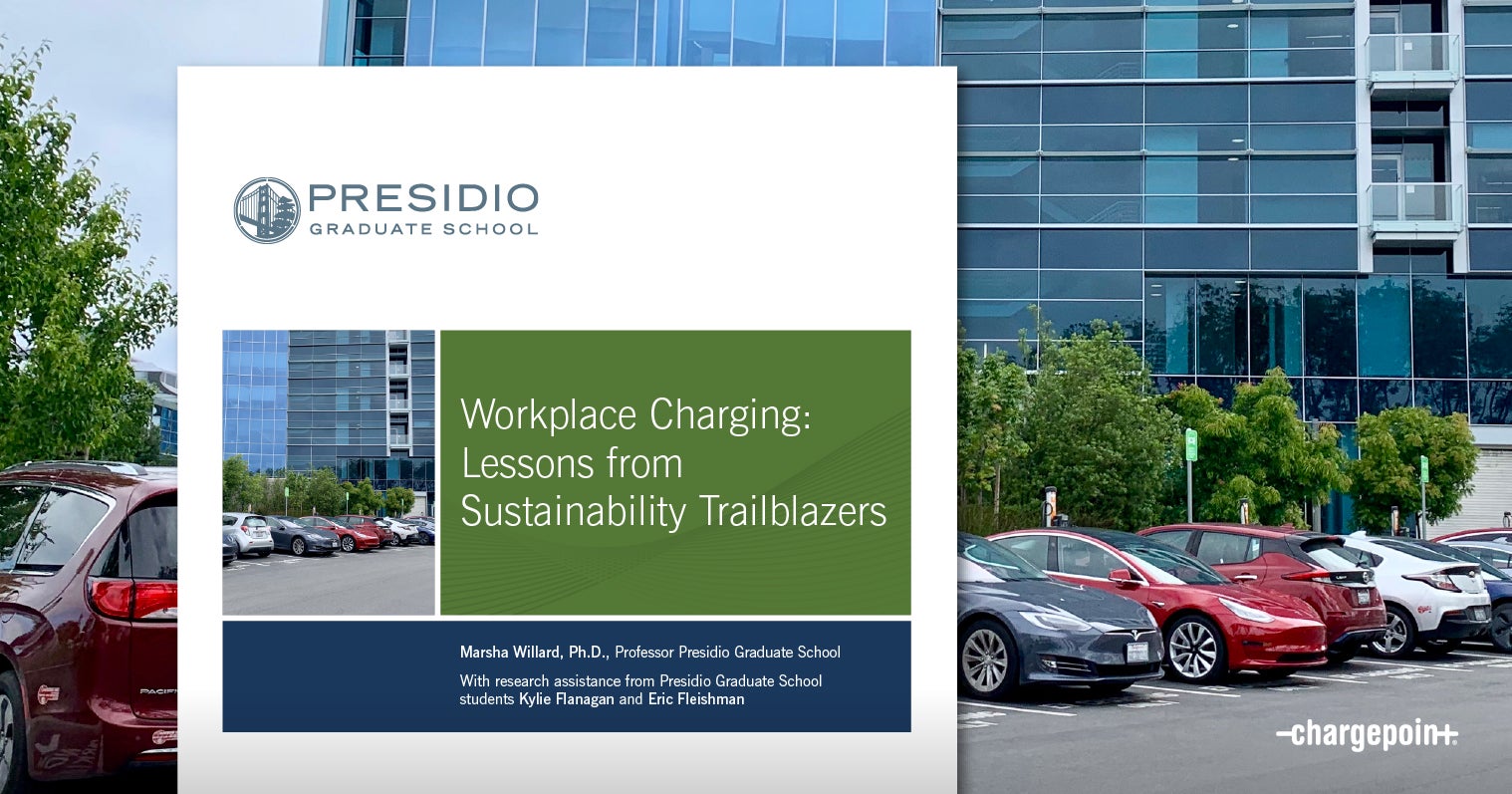 Recently, global businesses worth $2 trillion dollars "added their voice to a growing chorus" for a green recovery. From the United Nations (UN) calling on governments to "build back better" to drivers choosing to switch to electric vehicles (EVs) even during an economic downturn, it seems everyone is suddenly serious about sustainability.
Since changing the world is what ChargePoint is all about, we were excited for the opportunity to collaborate with Presidio Graduate School on their new report. – Colleen Jansen, Chief Marketing Officer, ChargePoint
Few organizations know more about sustainability than Presidio Graduate School (PGS). The New York Times deemed PGS the school to go to "if you want to change the world." Since changing the world is what ChargePoint is all about, we were excited for the opportunity to collaborate with PGS on their new white paper, Workplace Charging: Lessons from Sustainability Trailblazers and Best Practices for Reducing Emissions with Electric Vehicle Charging in the Workplace.
A question we hear often from applicants and recruits is 'what are you doing for the environment?' The EV charging and EV purchase incentive is part of our ready response. – Bank of America
In late 2019, Professor Marsha Willard, PhD and her research assistants talked to 24 sustainability leaders, including global brands like Bank of America, Ingka Group (formerly IKEA Group) and Workday, to find out how workplace EV charging works for their businesses. Their results were enlightening. Among other insights, the study found:
Employers play an important role in facilitating EV adoption and EV charging is increasingly easy to justify.
EV commuting and EV fleets help organizations realize greenhouse gas reduction targets.
Related benefits increase employee satisfaction and make it easier to attract and retain workers.
Employers recognize that demand for charging will only grow and in many regions is already both an expectation of employees and a mandate from cities and states.
Employers are worried less about upfront costs and are thinking long-term about strategies to future-proof their investment.
Be sure to research rebates and credits for installing and managing EV stations. We weren't aware of them initially and only just learned about them. Explore your options to make sure that you're getting everything you're entitled to. – VMware
Change is in the air—both figuratively and literally. EV charging is helping the world's most well-known brands realize their sustainability goals, while creating lasting change for people and the planet. Get the white paper to find out what e-mobility can do for your business.