ChargePoint Helps Holy Cross Energy Build the Grid of the Future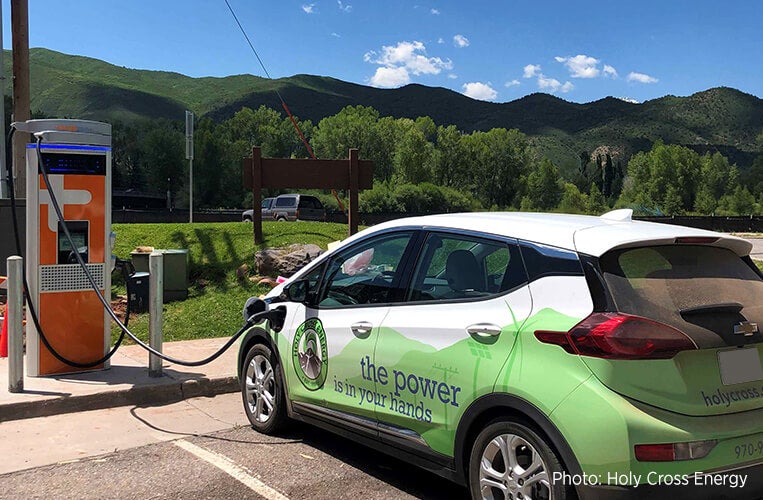 Holy Cross Energy (HCE) is a not-for-profit, member-owned utility located in Western Colorado. Founded in 1939 to provide power for just 175 families in the Roaring Fork Valley and surrounding areas, the cooperative has grown to 43,000 members today. HCE still serves the rural communities of its roots, while also powering the world-class ski resorts of Aspen, Vail and Beaver Creek. HCE is a shining example how a small co-op can provide safe, reliable, affordable and now sustainable power. Like its founders, the utility has its sights set on the future. HCE plans to provide its members with 70% renewable energy by 2030 (up from 44% in 2019), while also reducing its greenhouse gas (GHG) emissions by 70% over the same period. To get there, HCE is pioneering a sustainability model that incorporates electric vehicles (EVs) to modulate power and ChargePoint charging solutions to help manage the load.
Using Data and Integration to Create Flexibility
"We began by cleaning up the power supply, but we also knew that we needed to figure out a way to reduce emissions not only in the electrical supply but also on a local level," says Chris Bilby, HCE's Research and Programs Engineer. Because solar and wind generation are intermittent, HCE designed special rate structure for EV drivers that addresses both goals. The Distribution Flexibility (DF) program offers members credits on their utility bill in exchange for letting the utility modulate charging when renewables are over-supplying the grid. "That means we have more power during a certain moment than we actually have load. But that's the beauty of the EVs—you push the button and they start charging," says Bilby, adding, "It's fantastic." ChargePoint's smart, integrated charging solutions not only allow for easy metering on the utility side, they help standardize the process for installing home charging for members. It's a win-win, he says.
Unbelievable Synergy: Renewable Energy and EVs
"In Colorado, we get 300 days of sun, so we have a lot of PV (photovoltaic) generation," says Bilby. "What also happens in Colorado?" he asks. "The wind blows at night." Since cars are usually parked at work during the day and at home at night, they are an ideal way to utilize renewables while reducing emissions. "It's a great way to move energy from the sun directly into a car in the middle of the day," he says. The same principle works for wind power at night. "Using our ChargePoint dashboard, we've learned that the average car is plugged in for 12 hours, but only needs two and a half hours' worth of actual charging. That gives us nine and a half flexible hours every day to be able to move around that energy," he says. "The synergy that we found between renewable generation and the flexibility of EV driving is unmatched."
"[With the ChargePoint App], people can set their charging rates, their charging time and be able to monitor that on their phone. It's a big benefit. We can also see that on our dashboard, which allows us to do a lot of economic analysis that we couldn't do before."

Chris Bilby
Research and Programs Engineer
Holy Cross Energy
A Full Solution for Home, Workplace, Fleets and On the Road
Charge at Home. Charge at Work. The next challenge was to promote e-mobility to members. That's how the utility's "Charge at Home. Charge at Work" program came about in 2018. "We liked ChargePoint because they offer a full suite under one controllable dashboard and a phenomenal home charger," says Bilby. In fact, ChargePoint is the only EV charging provider to offer such a "complete solution." As part of its residential program, HCE provides a free ChargePoint Home charger to members. Businesses receive ChargePoint commercial level 2 charging stations which can be financed on their bill. "For home chargers, the return on investment based on electrical sales was about two and a half years. It really allowed us the ability to fully rebate a level two home charger at 100 percent," he says. The company is also able to help finance professional installation—what Bilby calls "panel to the plug"—by paying a qualified electrician upfront and spreading the cost out on a member's bill over three years. "We're getting a plug online once every three days," says Bilby. "That's huge. It's been over 16 months including weekends. It's just been phenomenal."

Community Charging. Members can also enroll enrolled in HCE's DC fast Community Charging program as well, so they're able to charge their EVs on the road, says Bilby. That road is the I-70 corridor from Vail to Rifle—a stretch of highway in HCE's service area that covers nearly a quarter of the state of Colorado. It also happens to be the ideal location for a series of DC fast charging stations, which significantly speed up charging and help alleviate range anxiety for EV drivers traveling in the state. "We installed two ChargePoint DCFC stations last year and we have six that we're projecting to install in our communities this year," says Bilby. "We also value that community chargers provide a fueling station of multifamily dwellings where members may not have assigned parking which is one of the many reasons we have engaged with our community partners on these efforts."

Electric Fleets. Bilby says his heart is in the transit bus sector, calling it a "knight in shining armor" for the EV industry. "In one month, the buses saved 60 metric tons of CO2 just by running on HCE's power supply mix of 44% renewable," he says. In order to walk its talk, HCE is also electrifying its own vehicle fleet. "Since 2018, we've added six Chevy Bolts to our fleet, which is 11% of our non-truck fleet," he says. He expects that to increase significantly as automakers including Ford, Tesla and Rivian begin releasing more electric trucks in the coming year and beyond. "We have almost 20 ChargePoint plugs at our four facilities," he says, adding that the twelve at HCE headquarters are directly coupled to its onsite PV (solar) generation.
ChargePoint Data Gives HCE the Power to Achieve Its Sustainability Goals
ChargePoint's advanced, embedded technology means HCE can use the company's EV charging solutions as a meter and a relay. "ChargePoint allows us to do a lot of economic analysis that we couldn't do before," he says. "It's given us the data to validate not only the rate structure we're on now, but also to influence future rate structures," he says. Driver experience is also important to help promote EV adoption. "People can set their charging rates and charging time and they're able to monitor that on their phone. That was a big benefit," he says. "ChargePoint makes a Level 2 commercial product and a DC fast product all under one wheelhouse, which really brought ChargePoint to the front of the line," says Bilby. "We found a vendor that was able to offer us a full suite of options—not only for the home— but also for out in the community," he says. "We like ChargePoint because they offer a full suite under one controllable dashboard, great customer support and a phenomenal home charger."
"We like ChargePoint because they offer a full suite under one controllable dashboard and a phenomenal home charger. I'm so glad that we have gone with ChargePoint."

Chris Bilby
Research and Programs Engineer
Holy Cross Energy
ChargePoint Delivered
A full-stop solution to provide to rate payers: ChargePoint Home Flex, ENERGY STAR® certified EV charging stations both for level 2 and level 3
A smart cloud network to enable smart features that enhance the driver experience including:

Greenhouse gas (GHG) emission reporting
Usage reporting

Power management
Backed by a team of industry experts and a familiar brand that's been focused on charging for more than a dozen years
Results
160% increase in monthly charging sessions within a year of the initial station installations
88,000 kg of GHG emission avoided (that's like planting 2,200+ trees and letting them grow for 10 years)
14% increase in drivers YoY (2019-2020 YTD)
33% increase in commercial and public stations YoY (215% including residential)
---
At ChargePoint, we believe stories have the power to change the world.
Our customers share their stories because they're passionate about the often-unforeseen ways the electrification of transportation has impacted their organizations. Like many companies around the globe, they've discovered that what's good for the planet can also be good for business.
E-mobility is here to stay. Perhaps it's time to tell your own story. Reach out to us at sales@chargepoint.com and let us know. We'd love to hear it.