At ChargePoint, we're all about bringing power to the people by making it easy for everyone to choose to get around on electrons instead of fossil fuels. There are many great reasons to drive electric. Whether you want to save money on fueling, win back time by charging while doing other things or enjoy a more fun and responsive driving experience, electric mobility can help you reach these goals.
One of the main reasons many people drive electric, though, is to help the environment. EVs can cut carbon emissions in half or more, depending on how the energy they use to charge is produced. Because someone plugs into a ChargePoint station every 2 seconds, we offer many opportunities for individuals and organizations to reduce their carbon footprint by driving electric or supporting e-mobility, and we make it easy to see that environmental impact with real-time online charging dashboards for businesses and a monthly summary for drivers.
Our sustainability efforts were recently recognized with an Acterra Business Environmental Award for Environmental Innovation and a London Business Award for Social Impact, and we look forward to reducing emissions even more as we expand the fueling network of the future and deliver 2.5 million places to charge.
In honor of Earth Month, we put together an infographic showing just how much drivers using the ChargePoint network contributed to reducing emissions in 2018 alone, thanks to the diverse businesses—like employers, retailers and apartments—that have chosen to be part of the fueling network of the future. Check out the infographic to see how many emissions drivers using ChargePoint prevented, how much money they saved and how far they traveled using the fueling network of the future.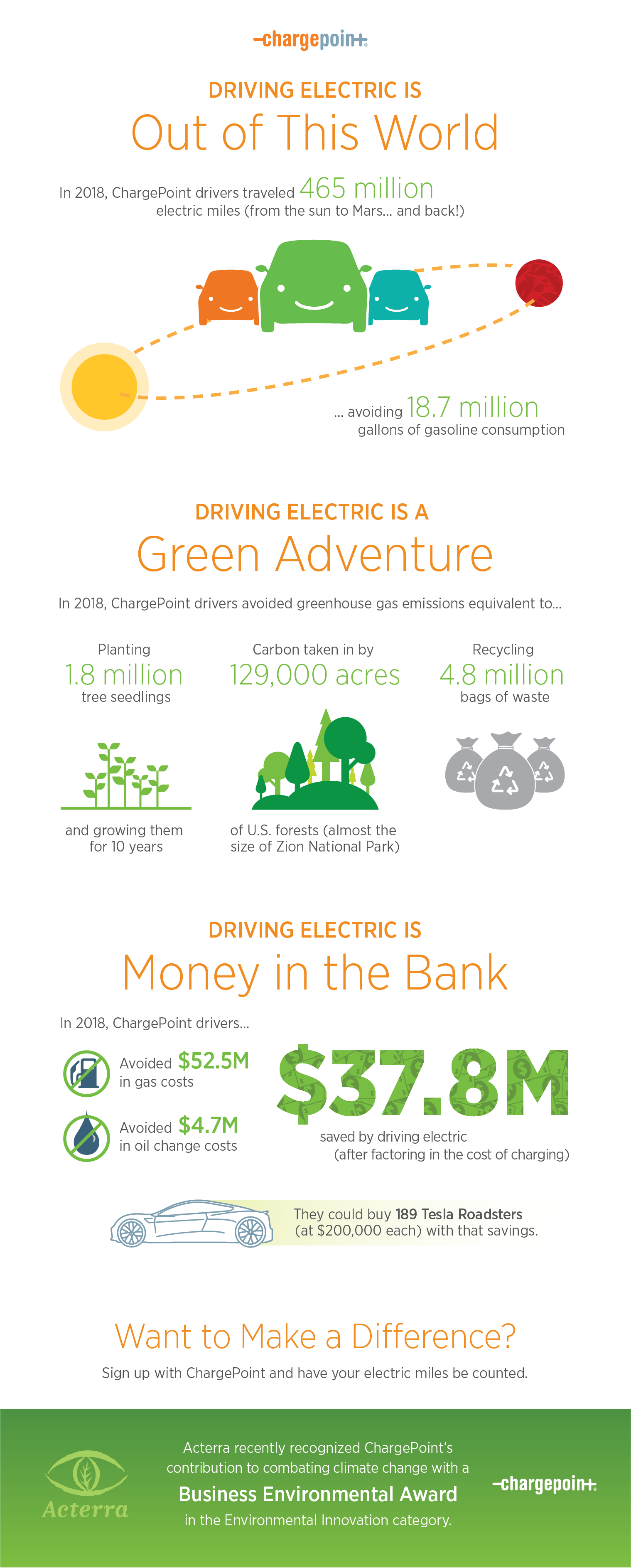 We've been helping people charge up for more than a decade now, so our cumulative impact keeps growing, and it will continue to do so as we add more places to charge and as the electric grid gets cleaner.
Are you interested in making your own contribution to reducing emissions as an EV driver? Sign up for ChargePoint today, or make an environmental commitment on social media using hashtag #withChargePoint.
Are you a company interested in offering charging? We're here for you, too. Find the right solution for your business.