Getting a faster charger at home is a convenient way to ensure you always have enough range to get where you want to go, whether you drive a battery electric car or plug-in hybrid. Since getting my home charger (along with solar power), I've never looked back. As the shift to electric mobility accelerates, an increasing number of cities, states, provinces and utilities around the country and the world are providing significant home charging incentives for EV drivers to encourage EV adoption and smart energy use. Here's a quick guide we created to empower you with info about these money-back opportunities so you can get a convenient, affordable Level 2 charger at home.
Why charge at home?
Charging at home is extremely convenient: most of us park our cars overnight while we sleep, so it's the perfect time to get in a full charge or top off when needed. Even though I can charge at my office, knowing that I have the option to charge at home gives me peace of mind. Home charging also tends to be affordable, because many utilities also offer residential customers lower energy rates at night or other off-peak times.
Why get a Level 2 charger?
Many EV drivers rely on Level 1 charging at home, plugging the connector that came with their car into a regular wall outlet. This is convenient, but may not be fast enough to let you make multiple trips in a day or replenish your battery overnight after a long trip. Upgrading to a Level 2 charger will let you recharge overnight no matter what you drive, plus top off between errands. Charging at home becomes especially affordable when you can take advantage of a rebate for a faster Level 2 charger that can add up to 25 miles of Range Per Hour, such as ChargePoint Home.
"Super happy since now I can plug in overnight at off-peak hours and be at a full charge when I wake up."
Why are home charging incentives offered?
Incentives are an effective way for cities, states and other entities to promote EV adoption locally. Utilities may offer electric car charger rebates to encourage drivers to charge at off-peak times to reduce load on the electrical grid. We designed ChargePoint Home to recommend the best time to charge for your local utility and make it easy to schedule charging, so you can easily take advantage of off-peak rates on energy. Cities and states may offer rebates on home chargers to get more people driving electric to meet sustainability goals and reduce emissions while encouraging the development of the e-mobility industry.
"I programmed to charge at off-peak hour[s] overnight when [the] energy [fee goes] down to half and next morning I got a fully charged battery. Very convenient."
- Mark, ChargePoint Home Owner
What types of EV charging incentives are available?
Most residential incentives come in the form of rebates for the charging station itself (charging hardware) and/or the installation costs. Rebates will usually cover only a Level 2 EV charging station (also known as Electric Vehicle Service Equipment, or EVSE), capable of adding up to 25 miles of Range Per Hour, and/or installation of a 240-volt circuit. Slower Level 1 chargers are typically not covered by rebates. Rebates often require the charger to be installed by an electrician.
Some utilities also offer a utility bill credit for drivers who buy "smart" or WiFi-enabled home chargers that can schedule charging at off-peak times (like ChargePoint Home).
There is also a U.S. federal tax credit available for 30% of the cost of installing a home (or commercial) EV charger, up to $1,000 for home charging. Be sure to file the form for this credit with your taxes. It's applicable through December 31, 2020, for home chargers bought and installed in 2018, 2019 or 2020.
Tip: Not sure how to find an installer for your home charger? Check out our installation services, available through Qmerit
How much of the cost will my rebate cover?
Rebate programs and amounts vary by location. Some rebates are for a flat amount, no matter how much your charger or installation costs. These rebates can range from $75 to as much as $2,500 in different areas. Other rebates cover a percentage of your charger and installation cost, usually up to a fixed amount. Your installation costs will vary based on your existing electrical setup, desired location of charger and region, but could be in the range of $400-1,200.
Find a home charging incentive near you >>
What do I need to do to get my home charger rebate?
Many home charger rebate programs require you to provide some or all of the following:
Copy of the receipt or invoice for the charger

Photograph of the installed charger

Copy of receipt from installer

Copy of any local permits required

Copy of DMV registration, car purchase, or lease agreement
Do your research ahead of time and have any necessary forms ready for your electrician on installation day, and don't forget to take a picture of the installed charger. Once all your paperwork is in order, make copies if needed and send in your rebate application. Many programs now accept digital applications for rebates, which makes things easier.
When should I apply?
Apply as soon as your charger is purchased and installed! Many EV charging rebate programs have funding only for a limited number of applicants, so act quickly to make sure you get yours.
Are free chargers really available?
Is it too good to be true? Nope, unlike a free lunch, there might really be such a thing as a free charger. Like anything free, it may come with caveats. Programs that provide free chargers may monitor your charging activity (usually automatically, through a smart charger or meter) and may limit you to charging at certain times of day. Unless you have constraints on when you need to charge, it's almost certainly worth giving these programs a try for a free charger. Make sure to read the terms and conditions in full to understand the best time of day to charge.
Tip: Off-peak rates may make charging at night affordable, but could also come with higher energy rates during the day. Always read utility agreements in full to understand what you'll pay.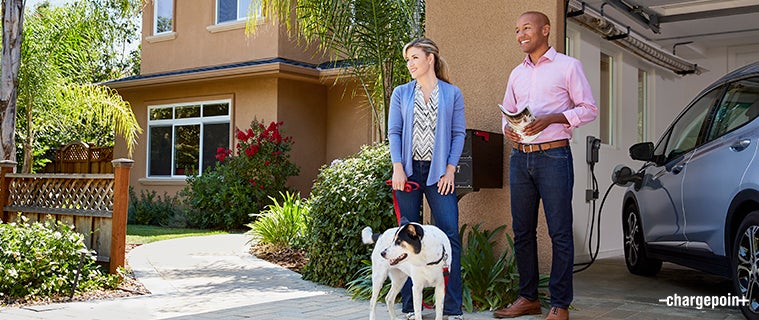 What if I live in an apartment or condo?
It may require some additional steps to get your own home charger installed in an apartment or condo, but several states and provinces, including California, Colorado, Florida, Ontario and Oregon, have "right to charge" laws that give you the right to charge your EV at home. You can also let your property manager or HOA know about commercial EV charging incentives, many of which are designed for multifamily properties. At ChargePoint, we support both community chargers for shared parking and personal chargers for assigned parking. Be sure to pass along our resources on apartment and condo charging to your property manager or HOA—we want to make it easy for all drivers to charge an EV, no matter where you live or how you park.
What about rebates for buying the EV itself?
In addition to the federal tax credit of $7,500 for buying an EV, 45 states have some sort of EV rebate available. Check out EV incentives here and consider applying for any you've missed.
I hope this guide helps you get the most out of home charger rebate opportunities. Click below to find a home charging incentive near you.