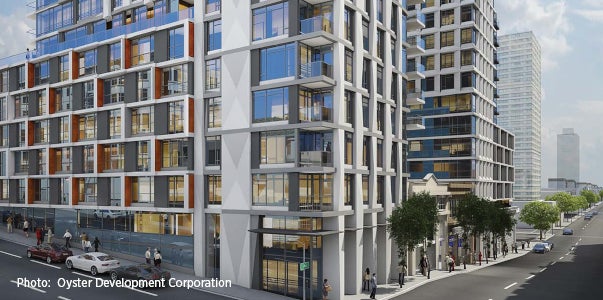 Oyster Development Corporation recently installed EV charging at its Rockwell condominium residences in San Francisco. To reduce costs, install more charging spots and increase sales, Oyster integrated stacked "puzzle" parking with charging. We recently chatted with Michael McCone, Vice President at Oyster Development Corporation, about the decision to choose EV charging and ChargePoint.
What made you look into EV charging?
As soon as we started our sales program at Rockwell, people asked if we had EV charging, so the demand for charging was clear. We wanted to install as many charging spots as possible, but we faced limited space and electrical capacity in our urban environment. So we started looking for a way to accommodate more charging spots in the space we had available by integrating a stacked "puzzle" parking system with EV charging.
How does ChargePoint help you with charging?
ChargePoint was the only EV charging provider that was able to deliver on two major fronts: Power Management and puzzle parking integration. Using Power Management software to distribute available power among more charging stations enabled us to install twice as many charging stations as the rated electrical capacity for our property would have allowed, eliminating the need for expensive upgrades. ChargePoint worked with us closely throughout this process and helped us pass inspection to become the first EV charging installation with stacked parking in San Francisco.
"Very professional, focused, collaborative, and transparent. Working with ChargePoint was a satisfying experience."
– Michael McCone, Vice President, Oyster Development Corporation
We were not only working under electrical constraints, but had limited space as well. Installing the stations on puzzle parking lifts enabled us to put in twice as many charging spots as we would have been able to otherwise. Now that we have plenty of charging available, many people have already purchased a charging spot with their condo, even if they don't yet have an EV. They're planning ahead for their next vehicle to be electric.
What's next for Oyster?
We'll continue to develop high-density, mixed-use residential properties in urban environments, which means we'll keep adding more charging stations and puzzle parking spots to accommodate resident needs for EV charging. As more of our residents drive electric, we expect demand for charging to continue to increase, and we'll be there to meet it with ChargePoint stations that can handle demand while fitting in our budget and space.
"The cost to the homeowner is much more affordable, which is why so many Rockwell residents purchased charging stations. And now with electric cars being a reality… this technology is here to stay."
– Eric Nelson, General Manager at Rockwell
Want to learn more about adding EV charging to your condo property? Check out our complete guide to EV Charging: What Condo and Townhouse Communities Need to Know, or get the full story about EV charging success at Oyster.