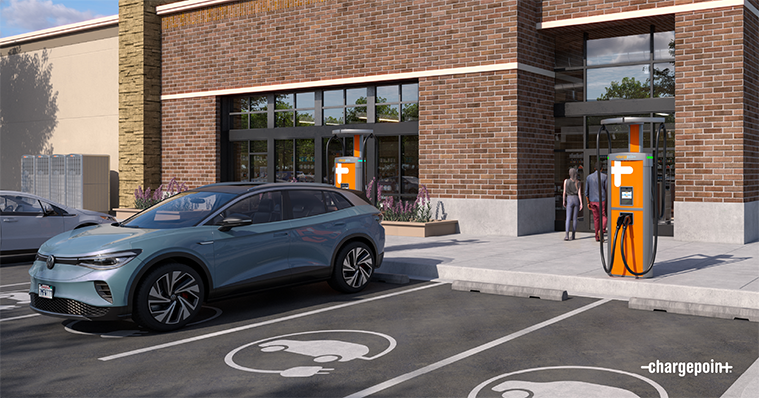 Fast charging has become a hot topic in the press of late, with Inflation Reduction Act (IRA) funding beginning to be put toward the buildout of DC fast charging sites across the country. While fast charging is not right for every location, with AC charging remaining a great choice for anywhere drivers stay parked for a few hours, ChargePoint is the industry leader and partner of choice for organizations looking to achieve success with fast charging.
That's because we understand just how much work goes into making DC fast charging a success. Utilities run electrical supply to a site. Electricians install chargers. EV drivers plug in, charge up and drive away happy. But even before any of that process starts, organizations must plan how EV charging will complement their business — and choose a partner to help them make it happen.
With 18,900 DC fast charging spots activated as of March 2023, ChargePoint has the experience and solution set to help any organization develop a comprehensive possible fast charging plan. We make this happen by focusing on a positive end-to-end driver experience and providing businesses with the tools they need. Everything we do is backed by strong industry partnerships and a deep commitment to reliability and service.
The best end-to-end driver experience
When EV drivers need a charge, they really need it. Our goal is to provide a complete and convenient experience for EV drivers, from the initial need for a charge to its successful completion. Drivers can always count on us for accurate information and reliable charging, whether they find us through our mobile app, extensive partnerships or in-vehicle integrations. It's easy to start a charge using our app, from the vehicle or even with a smartwatch, and drivers can track the status of their charging session remotely as well. If any problems come up, we take care of 24/7 EV driver support so that organizations offering charging can focus on their core business.
Powerful software tools
Our longstanding focus on providing a positive driver experience everywhere has led us to take a software-driven approach from the start, ensuring that it's as easy for businesses to manage charging as it is for drivers to find charging spots. All ChargePoint solutions are connected to our network and designed from the ground up to integrate with other systems. Whether this means connecting with back-end applications to manage energy costs or integrating with customer loyalty programs to send special offers to EV drivers, we make it happen in a way that works for any business.
We're also committed to delivering powerful software tools that help organizations manage how fast charging works for their business model, from setting prices for charging to deciding who can access stations and protecting driver data. Every organization can count on our network for up-to-date information about the status of their chargers, and drivers can always check the ChargePoint app to make sure that stations are available when and where they need them.
Comprehensive, scalable solutions
ChargePoint can deliver everything it takes for successful fast charging, thanks to more than a decade of experience in successful EV charging deployment and a team of professionals who are well equipped to guide organizations through evaluating the complexity of DC fast charging and designing successful charging sites. Whether fast charging projects involve a single charging spot or multiple locations across a larger region, we can help identify the right locations for charging based on local EV adoption rates and convenience to major roadways. Not every location is right for fast charging. AC charging makes sense for places where drivers spend more time parked, while DC charging is right for businesses where drivers spend 30 minutes to an hour — but ChargePoint can connect every business with the solutions that are right for them.
Whether a location is limited on space or has room to grow, ChargePoint has a solution that fits the bill. ChargePoint Express fast chargers offer high power in a small footprint, providing up to 125 kW when paired, while our Express Plus platform can deliver up to 500 kW per vehicle. All of our stations are backed by our powerful software, established partnerships and unparalleled service.
Strategic partnerships for success
In addition to an expert team and broad solution set, we have established some deep industry partnerships that ensure the success of our fast charging solutions in various locations. For starters, our dedicated interoperability testing team works closely with automakers to ensure that our solutions can charge every vehicle quickly and reliably, every time.
We collaborate with utilities and electricians across the country to install and manage charging, and we'll help you develop the relationships needed to get fast charging sites connected to the right amount of power early on. While upgrading electrical infrastructure can take time, it's worth it to ensure that your location will have the power supply needed to be successful with DC fast charging now and in the future.
Our flexible, software-based solutions have allowed us to partner with leading brands like Volvo, Starbucks, Mercedes, Fisker and Instavolt, as well as other charging networks, to roll out DC fast charging stations that are easy for EV drivers to access and use through our own or our partners' mobile apps. We're also working to simplify fast charging deployment with battery storage and other innovative approaches to help accelerate the buildout of needed infrastructure, even if sufficient electrical supply is not yet available.
A relentless focus on reliability and service
Our stations need to work when they're needed, every time. Extensive in-house testing at our dedicated facility ensures our stations can stand up to harsh weather conditions and repeated use. To deliver further peace of mind, we've developed an industry-leading EV station maintenance and management program, ChargePoint Assure, that aims to maximize station uptime so drivers and businesses alike can count on us.
As we install more fast charging sites, we're changing the built environment around us and making it easier for more people to choose electric mobility, everywhere they go. As our work proceeds, driving an EV will become easier for more people and, eventually, commonplace. That progress is not just our doing — it's also thanks to our many dedicated partners who care about a sustainable transportation future. Explore our options and connect with us if you're interested in being part of the future of mobility.