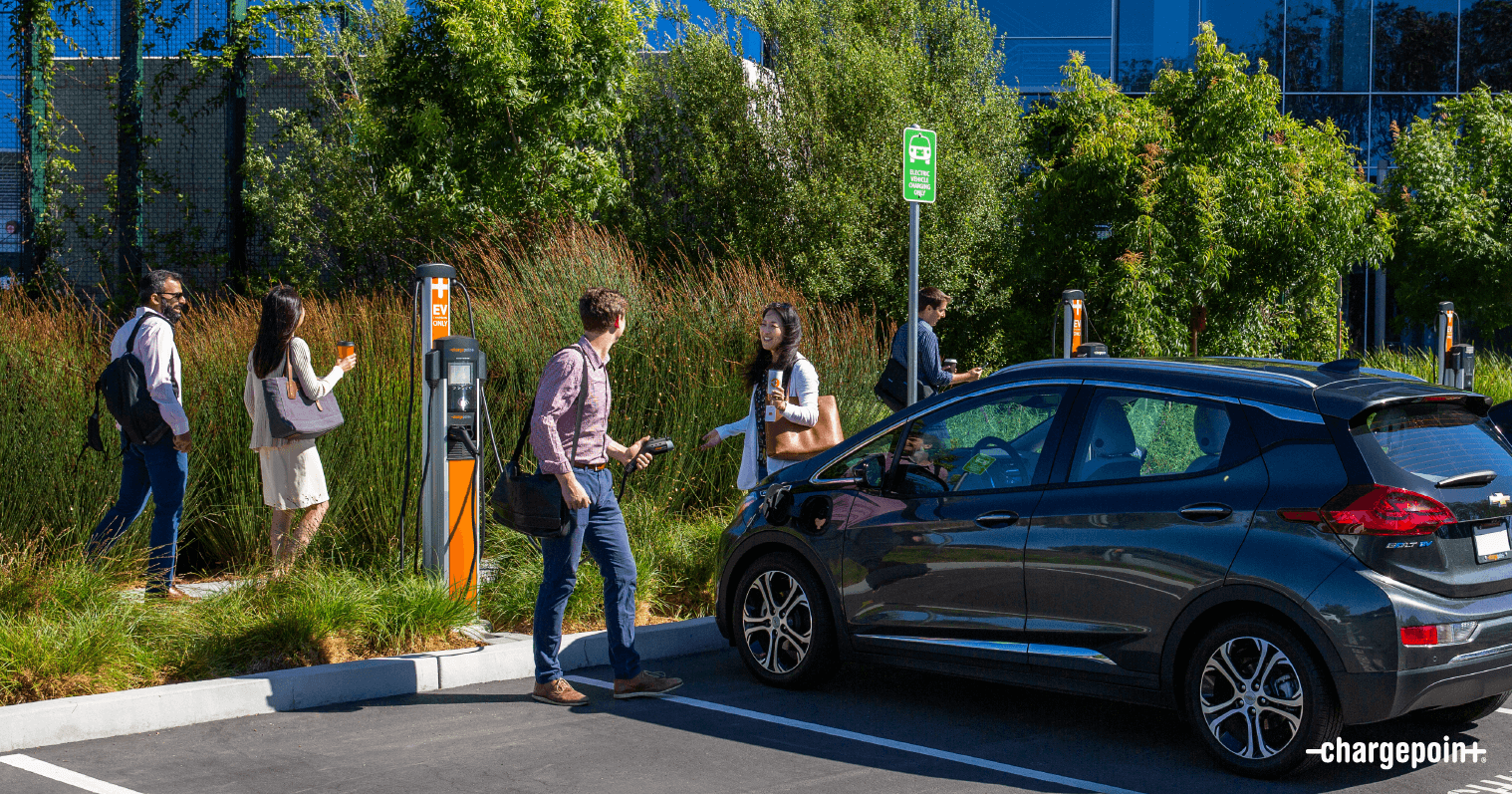 I recently shared with you that more than 20 new EV models will be released in 2020. (I love my Jaguar I-PACE, but I admit the new Audi e-tron looks pretty appealing.) New models, longer range and other developments in the EV market are helping drive (pun intended) more people to choose electric.
As a result, more workplaces are choosing to offer EV charging. As someone who enjoys the convenience of charging at work, I can tell you that having access here helps ease my mind about being able to get where I need to go after work, whether it's a customer meeting, basketball game, camping trip or errand for my family. And I'm not alone: our data shows other EV drivers feel the same way, including employees here at ChargePoint headquarters in Campbell, California.
At ChargePoint, we've been in the EV charging business for a long time, so we have a lot of data on how EV drivers charge their vehicles and how businesses benefit from EV charging. We've been using that data to inform regular "Charging Forward" reports that show the state of EV charging. Until now, we produced general reports on the entire EV charging industry. Now that the market is maturing, we'll be focusing our Charging Forward reports on a specific industry to show how charging benefits it.
The workplace is our first area of focus, and it couldn't be more relevant. I'm seeing growing interest in EV charging among pretty much everyone I talk to. Whether it's prospects here at ChargePoint, friends from college or folks at my kids' sporting events, people are talking about electric vehicles. And I know firsthand that access to charging makes employees more interested, productive and engaged at work.
That means one thing for you if you run a company: you need to offer EV charging. It will help attract new employees as well as engage your existing employees as they save time and money on commuting, gain peace of mind and make a difference to the environment. I may not be a millennial, but I have hired many of them and I know that this generation is particularly attuned to sustainability.
Part of offering EV charging to your employees involves making sure the charging experience is as great as your corporate brand. Your employees need to be able to count on the stations to be working when they need them, and able to easily access them using an app. You should also have an easy way to set up EV charging, manage who can charge and make charging seamlessly fit into everyone's workday. Whether you want to limit charging to employees and set a fee or not, you're in control with a networked EV charging solution like ours.
From the time drivers spend charging each day to the tools that support a great charging experience, Charging Forward at Work has all of the information that you need to make your decision about installing charging at work. (Spoiler alert: yes, you should do it.) Don't believe me? Check it out today.