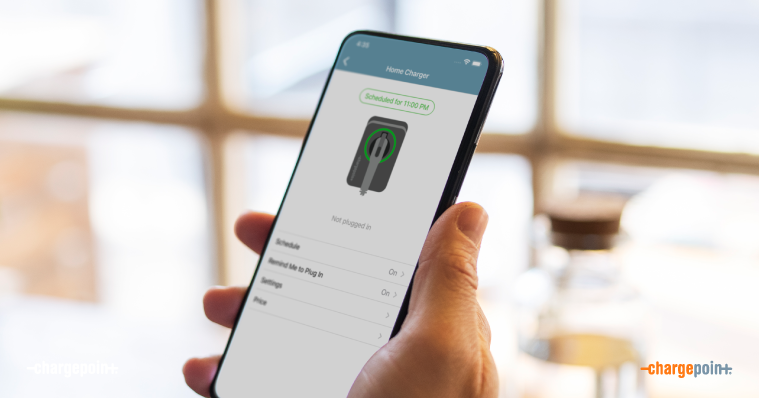 Oh, do we love charging at home. What's not to love? Seriously. Charging at home is like eating ice cream in the bath. It's like folding laundry while watching your favorite movie. Like talking to your best friend while you get your daily steps in. Home charging provides effortless joy as you fuel up your EV while you go about the rest of your life. Need we say more?
The only thing that makes home charging your EV even better is the ChargePoint app. Yup, the same ChargePoint app you use out and about in the world — at work, the grocery store or a concert, or on a road trip — works at home too. What's not to love about a single app for ALL of your charging needs? The cherry on top of this EV charging sundae is that the ChargePoint app contains a number of convenient features to make home EV charging even better.
Get to know 5 of our favorite EV home charging app features:
1. Schedule charging ahead of time
Schedule your home charging ahead of time directly in your ChargePoint app so your EV will always be ready to go when you are. Say goodbye to last-minute charging and having to dash to plug in and charge your EV. The ChargePoint app makes charging your EV at home so convenient you'll have more time for the things that matter most.
2. Save money with your local utility
The ChargePoint app can help save you money by empowering you to charge when electricity is cheapest. Connect to your local utility directly in the app to learn when charging your EV is most affordable. Schedule charging with this knowledge and save money. Your EV lifestyle is not only the right thing to do for the planet – it's the right thing to do for your wallet.
3. LED to your liking
Whether you want your home charger's LED brightness to dazzle or lay low, the ChargePoint app has you covered. You can adjust your home charger's LED brightness directly in the app. Change your mind and want it brighter or dimmer? Just open the app and customize your LED brightness to your liking. It's that easy.
4. Seamless smart home integrations
As you can probably tell by now, the ChargePoint app gives EV drivers maximum control and convenience, including with home charging. One of the many ways to maximize your home charging experience with the ChargePoint app is to connect to Amazon Alexa. Once you've connected your ChargePoint app and Amazon Alexa, enjoy the ease of checking your charging status, seeing how many miles you've added and viewing your account balance just by saying "Alexa, ask ChargePoint…". You can also use Siri to check charging status with your voice. Enjoy the convenience and control of using your ChargePoint home charger and app with the technology that already powers your daily life.
5. One app for all your charging activity
Last but certainly not least, the ChargePoint app allows you to track ALL of your charging activity in a single place. Enjoy the ease of viewing your charging activity for home AND public charging in a single app, with the option to view status at a glance with widgets. The ChargePoint app has you covered whether you're at home, around town or on a trip.
Convenience, control and smarts at your fingertips. Together, ChargePoint Home Flex and the ChargePoint app are an unstoppable duo designed to let you charge, drive and live better no matter where life takes you.