Federal and state agencies
Generate green goodwill
Establish your position as a green leader and improve your agency's image by supporting greenhouse gas (GHG) emissions reduction initiatives such as those laid out in the White House Executive Order #13693, "Planning for Federal Sustainability in the Next Decade," which includes 10-year goals for increasing the number of electric vehicles (EVs) in government fleets as well as reducing GHG emissions.
Meet your reporting requirements
ChargePoint® networked EV charging solutions allow you to track and measure sustainability metrics such as energy consumption and GHG emissions savings. Our robust reporting and analytics help you track against your objectives and fulfill your reporting requirements.
Encourage your employees to be green leaders
As a government agency committed to sustainability, encourage your employees to be part of your initiatives by offering workplace EV charging and make it possible for them to transition to an electric vehicle. ChargePoint workplace solutions are turnkey and hassle-free, enabling you to easily offer EV charging as a benefit to attract and retain top talent.
Green your fleet and integrate with existing solutions
Fleet electrification can offer the biggest contribution toward meeting your sustainability goals. The ChargePoint fleet solution caters to the specific needs of fleets, including integration with fuel cards and energy usage tracking, making the transition to EVs easy and efficient.
Sourcewell Makes Getting EV Charging Easy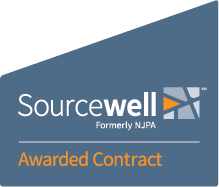 For government, education and non-profit agencies, purchasing capital equipment means having to go through a tedious bidding process to choose between multiple vendors. Sourcewell removes this complexity by providing cooperative contracting purchasing solutions.
Discover how Sourcewell can simplify your experience and even get you up to 30% off on EV charging >
A few of our federal and state customers