September 27, 2020
How to Choose a Home EV Charger
Charging your electric vehicle (EV) at home is convenient and makes driving electric easier than ever. Home EV charging gets even better when you upgrade from plugging into a 110-volt wall outlet to using a faster, 240V "Level 2" home charger that can add 12 to 60 miles of Range Per Hour of charging. A faster charger helps you get the most out of your EV and drive electric for more of your local and long-distance trips.
Technically speaking, a home "charger" is "electric vehicle supply equipment" (EVSE for short) that supplies power to your car, which charges the battery using an "onboard charger" that's actually inside the car. We'll keep it simple and call them chargers, like most people do. 
Most home chargers can charge any EV using the universal J1772™ connector (with an adapter, for Teslas), though Tesla chargers will only work with Tesla vehicles. Compatibility with your vehicle probably won't be an issue for your home charger but there are many other details to consider when choosing an EV charger for your home. Let's take a look at some of the most important factors to consider and questions to ask about charging at home to help you find the charger that's right for you.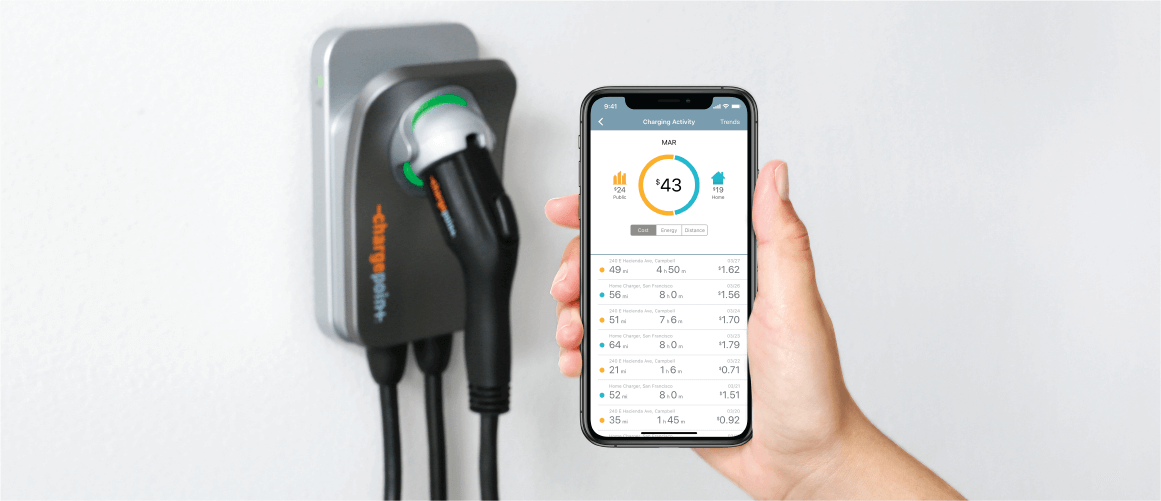 Speed: How fast do you want to charge?
All Level 2 chargers use 240V, but charging speed will differ based on a charger's amperage, or electrical current. Your need for speed will vary based on your EV's range, your commute and driving style: a car with less range, a long commute or always driving at top speed may mean you could benefit from a faster charge at home. Most EVs can take in about 32 amps, adding around 25 miles of Range Per Hour of charging, so a 32-amp charging station is a good choice for many vehicles. You may also want to increase your speed or get ready for your next vehicle with a faster 50-amp charger that can add about 37 miles of range in an hour.
Supply: How much room is there on your electrical panel?
As noted, all Level 2 chargers require a 240V electrical connection. You will need to choose a charger with an amperage, or current, level that works with your car and your home's available electrical capacity. The National Electrical Code requires an electrical circuit to be rated for 25% greater amperage than your charger's output. For example, if you want to buy a 40-amp Level 2 charger, you'll need a circuit breaker that's rated for at least 50 amps. (Or, you can get a flexible home charger like ChargePoint Home Flex that you can set to an amperage that works for your home.) Check your electrical panel to find out how many amps your home has available for charging: open up your panel door and see if there is an unused circuit breaker, or talk to an electrician. If your panel is already full or nearly so, you may need to upgrade your electrical service.
A Quick Guide to How Much Current You Need for Each Charging Speed
| Required Circuit / Breaker Rating | Charger Amperage | Estimated Driving Range Added Per Hour of Charging |
| --- | --- | --- |
| 20A | 16A | 12 mi (19 km) |
| 30A | 24A | 18 mi (29 km) |
| 40A | 32A | 25 mi (40 km) |
| 50A | 40A | 30 mi (48 km) |
| 60A | 48A | 36 mi (58 km) |
| 70A/80A | 50A | 37 mi (60 km) |
Location: Where do you want to put your charger?
If you can, install your home charger close to your electrical panel. Your electrician may need to run conduit from your panel to where you will charge, and a lot of conduit can get expensive. Installing your charger close to your garage door may make it easier to charge multiple cars, and a weatherproof charger rated for outdoor use gives you the flexibility to install indoors or out depending on where you want to park. Using a dryer circuit is not usually safe for chargers, but look for a charger that can use a NEMA 6-50 or 14-50 plug, two common plug types that electricians can install easily.
Safety & Reliability: How important are safety and reliability to you?
Rest easy with a charger that has been tested and certified by a nationally recognized testing laboratory to make sure that it's safe to use in your home and with your EV. ENERGY STAR certification shows that a charger uses minimal energy when not charging, which can help lower your electrical bill. A portable charger might seem appealing for travel, but dealing with cables and connectors lying on the ground gets old fast when you charge almost daily—and it's not very safe, especially if you have little ones (animal or human) running around. Consider getting a wall-mounted station that includes a safe place to hang the charging cable and connector when not plugged in.
Make sure to look into the warranty and support available for the charger you're looking to purchase, as well as the reputation of the company behind it. A 3-year warranty from a highly regarded company dedicated to charging is a must-have, and 24/7 phone support comes in handy when you need a charge but can't figure something out.
Savings: Will the charger help me save money?
Many utilities have special EV charging rate plans that save you money if you charge at off-peak times (usually at night). You can ask your local utility if such a plan is available, and get a charger that scheduling built in so you don't have to stay up until midnight to plug in. (While many cars support scheduling charging, using the car to schedule charging may interfere with charging when you're away from home and on the go.) Your local utility may also offer grants and rebates for home charging. These incentives often require chargers to be smart (WiFi enabled) to qualify.
Smart Features: What else can the charger do?
Getting the right charger is one thing. Actually using it can be another. Some "smart" EV chargers that are WiFi enabled connect to an app to manage charging, set a schedule and get convenient reminders to charge. If you're a data geek or just interested in knowing exactly how much you spend on charging, an app can also help you track charging costs and miles driven all in one place without any additional effort. If you have a ChargePoint home charger, the ChargePoint app shows your public ChargePoint activity alongside home charging. Smart chargers also automatically update with new features.
Cost: How much will it cost?
As with anything, you get what you pay for. The average home EV charger costs about $500-900, which is approximately half what most drivers pay for gas in a year. You will likely keep your home charger for many years, taking it with you and (if possible) adjusting the amperage for your next car. It's worth protecting your investment in your EV with a smart charger that has passed safety tests and is backed by a warranty. Cheaper chargers may not be safety tested and could lack helpful features, like the ability to set reminders and schedule charging. Choose a charger that will not only keep your car and your home safe, but also help you save money on charging with scheduled charging and possible rebates, which may require safety certificate and "smart" charging.
The price of a home charger itself doesn't include installation costs. It may be expensive to install a home charger if you need to upgrade your electrical panel capacity. A flexible amperage charger like ChargePoint Home Flex can help avoid expensive upgrades.
Now that you've mastered what to consider when buying a home charger, it's time to take a look at your options. ChargePoint Home Flex can charge at up to 50 amps, adding up to 37 miles of Range Per Hour, supports your home's electrical capacity, can be installed indoors or out, is UL listed for safety, includes smart features like scheduled charging and is an affordable investment.