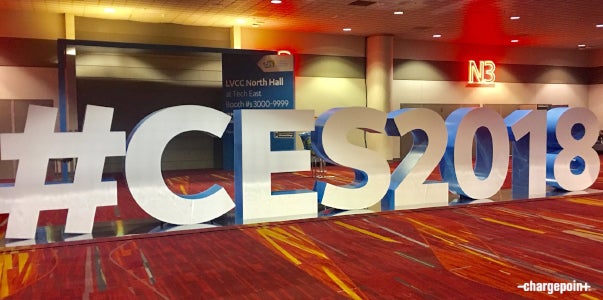 A century ago, automobiles were strictly utilitarian. Henry Ford once famously said about his groundbreaking Model T, "Any customer can have a car painted any color that he wants so long as it is black." Expressing individuality through one's vehicle was, to Ford's point, irrelevant. What a difference a century makes. Today, EV customers can choose from dozens of models available in a range of colors and personal technology that have become as important to a driver's in-vehicle experience as the destination. With autonomous vehicles, AI and connectivity on full display at CES 2018, it's clear the driver of tomorrow will have virtually any experience she desires. This week, EV enthusiasts are getting a peek of the future, as well as a look at some of the exciting innovations happening right now.
Technology gets personal
This year, Automakers are keen to tout their tech credentials at CES. In fact, automobiles and innovation are becoming so synonymous, one of Tuesday's most anticipated keynote addresses was delivered by none other than current Ford CEO, Jim Hackett. Far from espousing a one-size-fits-all approach to mobility, Hackett introduced Ford's new Transportation Mobility Cloud, which will allow connectivity and information-sharing between everything from automobiles, buses and bikes to street signs and stop lights in the smart cities of tomorrow.
The future, now
EV drivers and businesses at the show are more inclined to turn toward future-proofed tech that enhances their experiences right now rather than at some unspecified date down the road. That's why they were excited when we rolled out new platforms designed to revolutionize not only the driver experience, but the business of charging. With more than 44,000 places to charge (and counting), more than a decade of software experience and some of the best minds in electric mobility, ChargePoint is leading the way toward a more connected future. In fact, in addition to our exciting new Express Plus offering, we're showing off the sophistication of our cloud services by introducing a pair of new platforms that set the standard for EV personalization and interaction—for drivers, businesses and partners.
ChargePoint Driver Experience Network
ChargePoint's new Driver Experience Network enables automakers, transportation network companies (TNCs) and others to seamlessly integrate charging functionality into their own branded in-vehicle infotainment systems and mobile apps–information that has historically only been accessible at ChargePoint.com or through the ChargePoint mobile app. The ChargePoint Driver Experience Network is a customizable and networked single sign-on solution that lets automakers decide what information EV drivers see, such as station location, energy usage and cost of charging. It also allows drivers to initiate and pay for charging sessions using the manufacturer's own tools. With EV charging fast becoming a valuable complement to other mobility offerings such as car-sharing, ride-hailing and parking services, ChargePoint's industry-leading experience gives partners an invaluable head start on the competition in the lucrative EV market.
ChargePoint Operator Network
Station owners, charging operators and fleet managers needn't worry about being left behind—ChargePoint's second CES 2018 cloud offering, the ChargePoint Operator Network has already helped more than 7,000 businesses effectively manage their charging assets. Now available separately, the enhanced version gives even more users unprecedented new operations tools, integration options and energy management features to ensure their businesses grow and thrive. The ChargePoint Operator Network includes features for power and energy management, pricing and access controls, fleet management, analytics and dashboards, as well as integration into other enterprise software tools. By offering unparalleled control over hardware (even diverse, globally-deployed OCPP-compliant AC and DC solutions and systems from third-party manufacturers), ChargePoint is helping businesses support an ever-growing number of EV drivers and usher in this new era of electric mobility.
Although Henry Ford wasn't able to imagine a day when cars would become an extension of drivers' individuality and deepest desires (for sustainability, efficiency and the pure love of driving, among many others), he was certainly right about one thing, "If everyone is moving forward together, then success takes care of itself." If the automotive technology at CES 2018 proves anything, it's this: although we may not always be able predict the future, that future will be connected—and it will be electric. At ChargePoint, we're committed to the success of businesses, charging operators, partners and EV drivers as we all move forward together into the new era of electric mobility.
For more information about ChargePoint and all of our new technologies announced at CES, please see our latest press release.