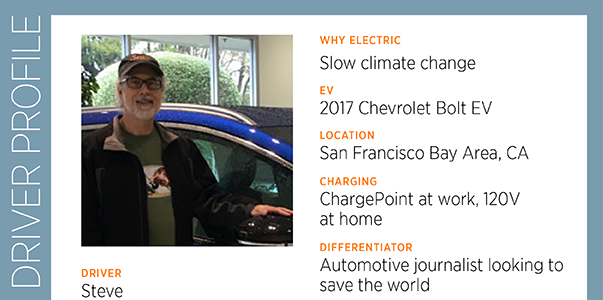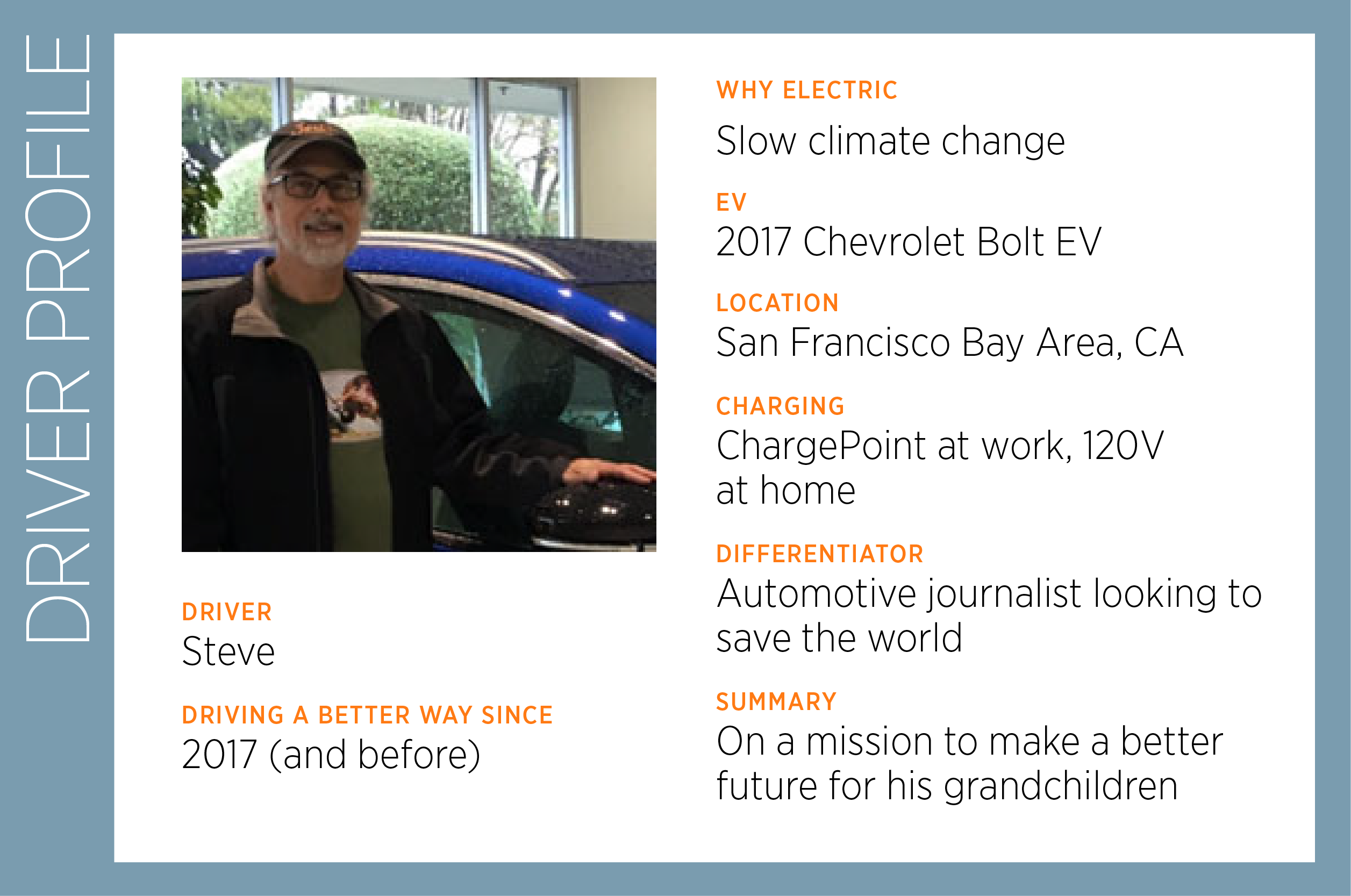 This post is part of a series of EV Driver Spotlights that shine a light on why people choose to drive electric. Drivers, want to be profiled? Tell us your EV story.
Hi Steve! Tell us what you do for work (and fun).
I'm a technical documentation manager by day and automotive journalist and bassist by night. If that's not enough, I'm also a proponent of EVs as an important way to address climate change.
Where do you live?
I live in the San Francisco Bay Area; my home is in the East Bay and I work on the Peninsula, in San Mateo.
How long have you been driving electric and what do you drive?
In 26 years as an automotive journalist, I've driven over 1,200 different cars, including nearly all of the current EVs on the market. I drove the Nissan LEAF and Chevrolet Volt back when they first came out in 2010, and I even briefly drove the GM EV1, which really felt like a spaceship.
My current car is a Chevrolet Bolt EV, which I leased in January 2017 (check out my one-year review). After so many years driving a different car every week, the Bolt is the first car that truly feels like mine—I appreciate its features and it really works for me. People scarcely even notice or ask me about it these days, which shows me that EVs have definitely gone more mainstream.
What EV activities are you involved with?
Besides writing about my EV experiences, I'm an Acterra EV Ambassador and host National Drive Electric Week events. I am signed up to take the three-day Climate Reality Leadership Training in August, so I'll be able to present Al Gore's message.
What made you decide to drive electric?
I've been interested in electric cars since they first came out, mostly for environmental reasons. Most people understand that we are facing a climate crisis. Much of global warming comes from burning carbon, which creates CO2, which accumulates and, thanks to the greenhouse effect, keeps more of the Earth's heat in, leading to rising temperatures and related consequences, from poor air quality to more extreme weather events.
As a grandfather, I am committed to ensuring that my two grandchildren have a bright future, and I think driving electric is an important step I can take to make sure they thrive in the years to come. Someday, I would like to see everyone driving electric cars to reduce the carbon in our atmosphere—for me, it's all about climate change and the future. As extra bonuses, EVs offer a quiet ride, help save money and are a lot of fun to drive.
How did you decide which EV(s) to buy?
After testing most of the EVs on the market, I knew I wanted one, but it had to meet my requirements. I needed enough range to drive 170 miles round trip to visit my granddaughters without charging along the way. I also carry musical gear, including an upright bass. I wanted room for at least four passengers and a high-quality sound system, since I commute up to two hours a day (Bay Area traffic can be bad!).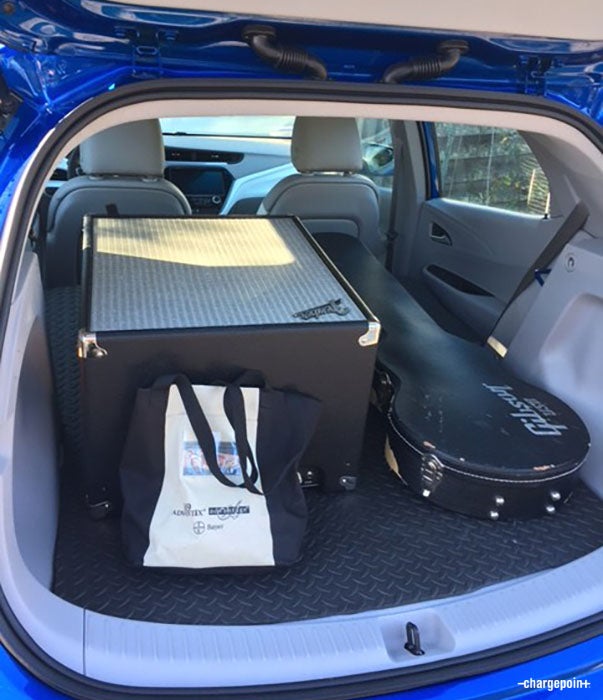 The Bolt was the only EV available with enough range  at a reasonable price point. The Tesla Model 3 isn't a hatchback, so I didn't think it could fit my music gear—and it wasn't available in January 2017. I got my Bolt EV so early that I didn't get a great deal on the price, but I did get a $2500 California rebate and $500 PG&E rebate, plus GM gave me some of the federal tax credit in my lease.
What's the 'best' EV you've driven? Some things you noticed about them?
By this point I've driven almost all the EVs except the Porsche Mission E, if anyone can hook me up with one. I've even driven some hydrogen cars, which was an interesting experience. All the EVs had different advantages, but I really loved the Fiat 500e I drove for three months of bliss. It has great get up and go and is a super cute car. I could even fit my bass in it. The only downside is the limited range (84 miles).
As far as specific automakers, I give Tesla a lot of credit for making EVs cool, and Nissan plenty of credit for being the mass-market leader with the LEAF. I also appreciate that the new Chevrolet Volt's 53 electric miles are enough for 99% of the trips that most people make, and the gas engine gives people the confidence to make the switch.  
For EVs coming up, I'm excited for the subcompact crossover Hyundai Kona's long range and the new MINI-E. I'm a big MINI aficionado. There are many more options just a few years out from Mercedes-Benz, BMW, VW, Volvo, GM, Ford and others.
Do you charge at home? What charger do you use?
Believe it or not, I've been charging with a 120 volt outlet at home. Because the Bolt has 200+ miles of range and I can charge at work, I usually top off overnight or on weekends at home and that meets my needs. I actually bought a ChargePoint Home charger, but I have yet to install it. I've used a DC fast charger just twice—only to test it, not because I needed to.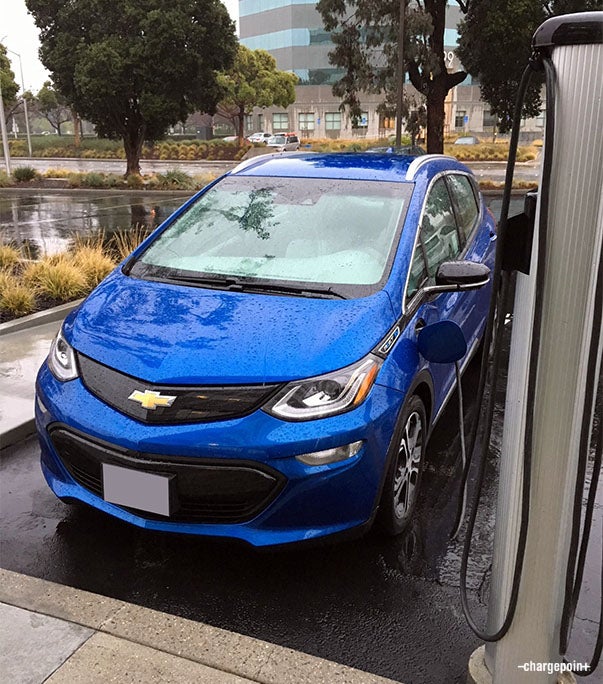 Do you charge at work? Did that influence your decision to get an EV?
Yes, I charge at work at Marketo (see image above). We have a dozen ChargePoint spots, and probably twice that many EV drivers. We tend to take morning and evening charging shifts. ChargePoint sends me an alert when I'm fully charged, and I go move my car so someone else can charge.
What's your favorite thing about driving electric?
It's a relief to know that my transportation choice is better for the environment and emits no greenhouse gases. Plus, I've driven 13,000 miles with no service visits—find me a gas car that can do that! Beyond the environmental and practical advantages, the Bolt is fun to drive. With a 900+ pound battery under the floor, its low center of gravity means it's stable in turns. The electric powertrain zips the Bolt to 60 mph in less than 6.5 seconds. The car is also whisper quiet without the clamor of reciprocating pistons, so I can listen to SiriusXM satellite radio through the upgraded Bose audio system—a perfect fit for a musician like me.
What are some of the challenges about driving electric, or what's surprised you?
Charging hasn't been a big challenge for me yet, since I don't take long trips. I guess the biggest challenge that I see us facing is climate change and showing people that it's a problem they can address. I don't want to preach, but I do want to motivate people to take action. Even though the environment is very important to me, I still drive a car, eat meat, buy things in plastic packaging and so on. Yet we can all drive electric, eat less meat or buy less packaging. It doesn't have to be all or nothing, just do something. It's all about raising consciousness and helping people make better choices. I recommend the books Climate of Hope and Drawdown for those interested in learning more.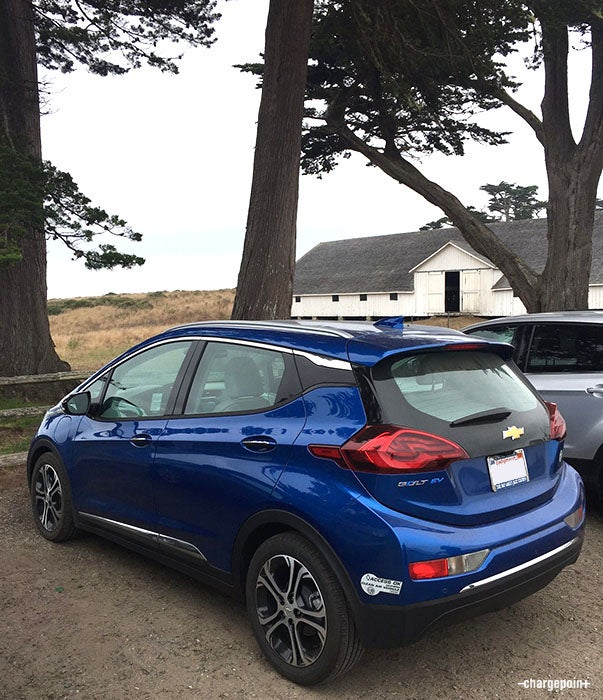 Where's the best place you've taken an electric road trip, or where would you like to take one?
I've driven my Bolt EV all over the place without range anxiety. Besides the visits to see my grandkids, I've gone up to the Palace of the Legion of Honor in San Francisco and the Nut Tree in Vacaville, and I took a little adventure to Bodega Bay in Marin County (see picture above). I recently drove to Tracy with my bandmate, Dan, for Texas Roadhouse steaks, and I've even cruised down to Monterey for the annual Media Days event put on by the Western Automotive Journalists.
What got you started on the environmental angle?
Not everyone is old enough to remember this, but in the 1960s, smog was everywhere and people started worrying about the climate. The environmental movement pushed to get additives out of gasoline, and catalytic converters were added to cars in the 1970s or so. That cleaned up things a bit, but it didn't address the issue of CO2 emissions.
When Al Gore's first book and movie, An Inconvenient Truth, came out in 2006, I began to see that the environmental issues we were facing were really serious, and I became more and more concerned. I see climate change as a major international issue that we all need to address. Air and water have no borders. Because the biggest source of greenhouse gas emissions in the U.S. is transportation, switching to an electric vehicle is a big step that most people can take.
I'm trying to be an example to others. I'm not a technical person or a scientist, I'm more about being committed to making a difference for our future. And I finally realized I could put my automotive interest to some use by writing about electric vehicles: I took something entertaining and made it into something I feel is important.
How do you combat any objections you've heard to driving electric?
Some naysayers use the fact that we generate some electricity from coal as a reason not to drive electric. I just see it as all the more reason to push to clean up our power grid so driving electric gets even better for the environment. If I keep my electric car for 10 years, it's going to get cleaner and cleaner every year as utilities expand clean power generation. Gas cars can't do that. Heck, the Kentucky Coal Mining Museum is already powered by solar because it's cheaper. Renewables are coming fast and EV drivers stand to benefit significantly from them.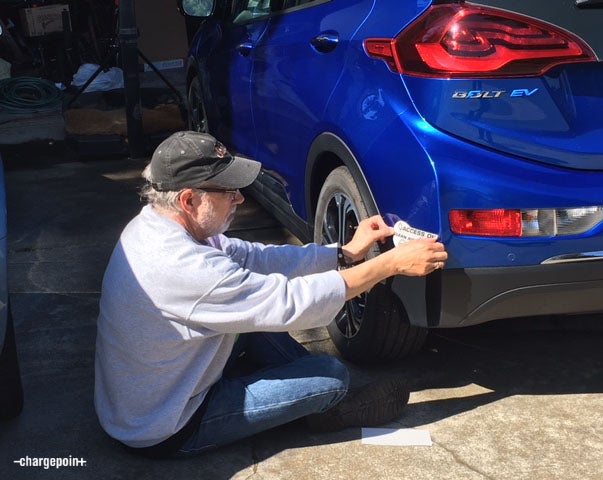 What's one thing you think people should know about driving electric?
The motivation is so different for everyone. For me, it's the environment. For others, it's HOV lane access or fuel savings. No matter why you choose an EV, though, you'll never go back. I believe that EVs are the future and if you have one now you're helping move things forward.
What do you see as some obstacles to driving electric?
EVs are still more expensive than many gas cars, and fuel savings aren't easy for people to understand upfront. EVs gain cost parity with incentives and fuel savings, but not every state has big incentives—or many EV models available. As battery costs drop, EVs get more affordable and more body styles are available, I think more people will buy them. Also, most people want to see more charging spots around before they're willing to make the switch.
Range remains an issue, but I think that if you want to take an occasional long trip, it's better to just rent a suitable vehicle and drive your EV the rest of the time.
Once cost, range and charging are solved, I don't know why anyone would want a gas car anymore.
Thanks for sharing your story, Steve! We hope it inspires others to choose electric vehicles.