The Business of Charging | December 22, 2017
LMC Equips Apartments for the Future with EV Charging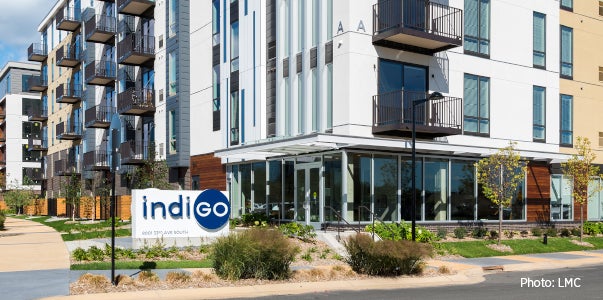 Home is where the heart is… and, increasingly, the charge. Access to electric vehicle charging can make apartment and condo residents more likely to choose a specific place to live, and offering EV charging can also connect properties with their local community. We recently spoke with Travis Nordgaard, Development Associate at LMC, a Lennar company, about the decision to add both resident and community EV charging at IndiGO at BCS and other LMC apartment properties in development.

What made you look into EV charging?
For each of our new communities, we set out to maximize our appeal by meeting the demands of today's residents. Our prospective residents are forward-thinking, tech-savvy, environmentally conscious and many are EV drivers. EV charging capacity is becoming as essential as any other modern amenity and is increasingly a must-have feature.
How does ChargePoint help you with charging?
ChargePoint handles all the logistics, from installation to billing, so our property managers can focus on building community and our residents can focus on their daily lives. Charging is an amenity that just works for us and we look forward to keeping it that way. ChargePoint was also able to offer a complete solution for all types of charging, including personal charging for our residents and shared charging for our community, which met our goal of community engagement.
What's next for LMC?
We've already put in the largest ChargePoint installation outside of the West coast at our IndiGO BCS apartments in Bloomington, Minnesota, and we have plans in the works to add EV charging to our Onyx community in Edina and our Nordhaus community in Minneapolis. Now that we have experience with ChargePoint solutions, we have created an efficient and repeatable process for ensuring that EV charging is part of our new buildings going forward. As transportation continues to evolve, we'll be ready.
See the full story of LMC's success with EV charging at apartments.
Ready to join the future of multi-family living?
---