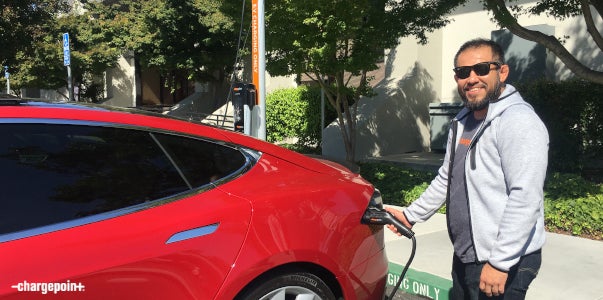 Lots of us drive electric at ChargePoint. We already shared how ChargePoint is a great place to work in part because people buy in to our mission and drive EVs. We also like to get other people behind the wheel. Yao Wang joined us as email marketing manager last December and didn't waste any time starting his EV search. After thorough investigation into the best EV deals, he decided a Tesla Model S was the car for him. Here's Yao to tell you what he thought about on his journey to kick gas and how it could help you, too.
My gas car was nearing the end of its useful life, maintenance costs were piling up and my gas mileage wasn't great. I realized that what I was spending on gas each month was more than enough to lease or buy a nice EV. Unfortunately, installing charging at home isn't an option for me right now, so when I gained access to charging at work, I started looking into my EV options more seriously. Here are some of the things I learned along the way and what I'd advise others looking to make the switch.
Set a budget and range upfront
There are a lot of affordable EV deals out there (like this recent LEAF steal), but you need to know what you want to spend. Don't get tempted by an expensive EV if you can't afford it, and don't get a cheap EV if it won't have the range to meet your needs. Start with what you want and go from there. I knew I wanted to save money on gas, go all-electric to cut maintenance costs and not spend too much, but I also wanted to get a good amount of range so I'd feel like I could drive anywhere.
Go all-electric if you can
When I started factoring in the cost of gas and maintenance, it just made sense to go all-electric instead of hybrid. My older gas car was getting very expensive to maintain. EVs are super easy and affordable: the recommended schedule is basically to check for wear and tear once a year and rotate tires occasionally. With a gas car, oil changes alone could run me a few hundred dollars a year. It's just not worth it.
Know your incentives cold
ChargePoint has a great list of incentives for buying an EV that I used in my research. I also found several other sites helpful for understanding what incentives I could get:
Find out what incentives are available in your state and whether they're offered with a lease. The federal tax credit for EVs, for example, goes to the leaseholder, but it may be passed on to you as reduced payments, while you will get state rebates directly (a smart way to handle your down payment). Some incentives have price or income caps, so those buying high-end new vehicles may not be eligible.
Shop around for deals
I regularly (okay, obsessively) checked Leasehackr and manufacturer websites to find and compare the best deals. If you pay attention, you can find some amazing deals. You just have to be ready to wait for the right one and bring the deals to the dealership with you for bargaining.
Consider buying used, even for EVs
I was considering a new BMW i3 when I found the opportunity to buy a Certified Pre-Owned Tesla Model S for a similar price. Buying a new Tesla would have cost more than I was comfortable with, but the pre-owned vehicle was within my range. Because Tesla does very thorough refurbishment for pre-owned vehicles, it's close to buying one new.
Leasing is great, but not the only option
People often encourage leasing EVs, which is a good way to get the best deals and latest technology, but pre-owned Teslas come with a full inspection, battery and drive warranty and a four-year, 50,000-mile limited warranty, so I felt comfortable with the decision. Plus, I get Supercharger access grandfathered in—not that I'll need it, with ChargePoint stations for topping up everywhere I go.
Be open to new things
For me, there was a definite mindset change in the way I think about refueling with an EV. Now, I'm topping off when it's not in use and I don't have to worry about range. It's a new experience and took a bit of adjustment, but now that I'm all-electric I like it a lot.
Think you're ready for your own EV?